"I looked up and thought, 'Why not?'" That's what ran through David Beckham's mind before lobbing Neil Sullivan from the halfway line in 1996 – but his new docuseries appears to have inspired more footballers to believe in long shots.
That goal against Wimbledon, arguably, helped launch his celebrity status. Shortly after, Beckham had secured sponsorship deals, modelling contracts and was dating 'Posh' at the height of the Spice Girls' fame.
David Beckham scored for Manchester United from the halfway line at Wimbledon on the opening day of the 1996/97 season

The first instalment of his blockbuster Netflix series Beckham was titled The Kick – referring to the iconic goal – and the episode appears to have made an instant impact on the league he last graced 20 years ago.
Only 1.6 per cent of shots were fired from beyond 30 yards in the Premier League this season on matchweek seven – before the series was released.
That ratio doubled to 3.2 per cent in the following matchday – just days after its release – and doubled again the following round to a staggering 6.4 per cent.
But, has the long-shot craze waned? Fewer players have thought, 'Why not?' during the latest round of games, with the proportion of shots fired from beyond 30 yards crashing back to average levels at 1.2 per cent.
However, the percentage of shots taken from beyond 20 yards continues to rise and hold fast – having jumped to a 35-per-cent ratio after the series was released and continued to rise in three of the following four rounds.
Matchweek nine also saw a season-topping eight goals scored from outside the box – a tally last surpassed in a single matchday back in 2017.
Why not? Here's why…
Firstly, it's important to realise this spike in long shots has come at a time when the general trend is heading in the opposite direction. Shooting from range has been in decline… for a long time.
The 2009/10 season produced a spike in goals and that campaign coincides with the beginning of a decline in shots attempted from outside the opposition box.
Matches produced an average of 12.8 long shots per game 13 years ago, but that number dwindled to just 8.4 last season – equating to a 34-per-cent drop.
What's driving this trend? The clue is in the term: long shot. A shot from distance is far less likely to result in a goal than a shot taken from inside the box.
Teams are increasingly maintaining possession and recycling, in order to try and carve clearer opportunities in front of goal – rather than fire shots from distance.
Since 2010/11, only around 3.5 per cent of attempts from outside the penalty box have hit the back of the net, compared with over 15 per cent of shots from inside the box being scored, including penalties.
So, firing closer to goal is more than four times as effective.
How is shot distance calculated?
Second Spectrum 'shot distance' measures the distance from the centre of the goal – at the point the shot was taken. For example, Second Spectrum measured Declan Rice's goal against Chelsea at 33.96 yards, while other sources measured the shot at 36.6 yards.
This season's mavericks
We take a look at the 10 furthest goals scored this season in the Premier League so far…

Twelve players have had a pop from over 50 yards in the Premier League this season – but we are yet to have a goal.
Bournemouth midfielder Philip Billing has converted from the furthest distance at 44.42 yards – but that still registers inside the opposition half.
Everton midfielder Amadou Onana has been the most ambitious – attempting to lob Alisson from over 64 yards in the Merseyside derby in October.
Sheffield United forward Gustavo Hamer went for the spectacular against David Raya the following weekend. One week later, team-mate Ollie Norwood tried the same against Jose Sa.
Pierre-Emile Hojbjerg fired from almost the same distance against Chelsea a fortnight ago – direct from a free-kick.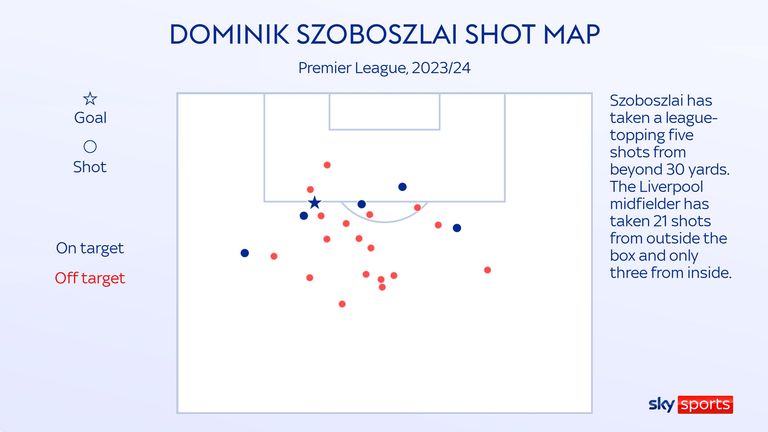 Indeed, the docuseries' influence has arguably extended beyond the Premier League with notable goals scored from beyond 50 yards overseas.
Harry Kane scores a sensational goal from inside his own half enroute to a hat-trick as Bayern Munich beat Darmstadt 8-0 in the Bundesliga

Harry Kane finished a version of 'The Kick' last month as Bayern Munich trounced Darmstadt 8-0 in the Bundesliga. Jonjo Shelvey scored from inside his own half for Caykur Rizespor in the Turkish Super Lig last week.
But Beckham's goal against Wimbledon does not stand alone. Charlie Adam pulled it off in a Stoke shirt from around 65 yards back in 2015 when he lobbed Thibaut Courtois in a 2-1 defeat at Chelsea – and almost replicated it against West Ham one year later. Wayne Rooney, Xabi Alonso and Maynor Figueroa have also pulled it off.
Paul Robinson, Tim Howard and Asmir Begovic are among a clutch of goalkeepers who have scored from a long ball and benefitted from the bounce, too.
Was this goal from inside his own half for Stoke against Chelsea Charlie Adam's greatest goal? The former Scotland, Rangers and Liverpool midfielder has announced his retirement from football at the age of 36

Most coaches could provide ample evidence for why players should not shoot from long distance – especially in the modern game. Indeed, even Beckham recollects how Ferguson would be "on you" if something audacious "didn't come off".
So, will players continue to try and emulate Beckham or has the audacious trend gone cold?