'Sophie Baggaley is a human brick wall' was the message put out by Brighton's social media team last Sunday night. And for good reason.
Title hopefuls Manchester City peppered the Brighton goal with 35 shots last weekend, 13 of them on target, amassing to an Expected Goals tally of 2.83. But the Seagulls shot stopper kept them all out.
Baggaley helped marshal the defence to a shock 1-0 away win against City thanks to Geum-Min Lee's late winner. But speaking a few days after that heroic display, it becomes apparent it was just another day in the office for the goalkeeper. At least it was her busiest, right?
"Do you know what, I actually don't think it was!" she tells Sky Sports.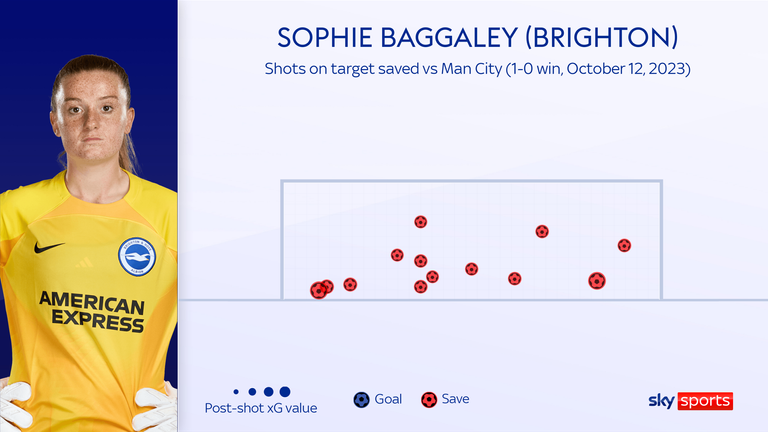 "On paper it probably looks like it, but our back five had a really, really good game and I think I only actually had to dive for the ball once!"
Baggaley is nearly right, she made two diving saves and one diving catch in those exceptional 90 minutes. Those numbers mean Baggaley is the most impressive goalkeeper in terms of Expected Goals conceded in the Women's Super League, preventing the most dead-certain goals in the process.
"I didn't actually know that!" she says. "I just focus on what I can do in the individual games.
"I don't look into the statistics too much as they can paint whatever picture you want, so I just focus on what I can do but I don't take too much notice of that."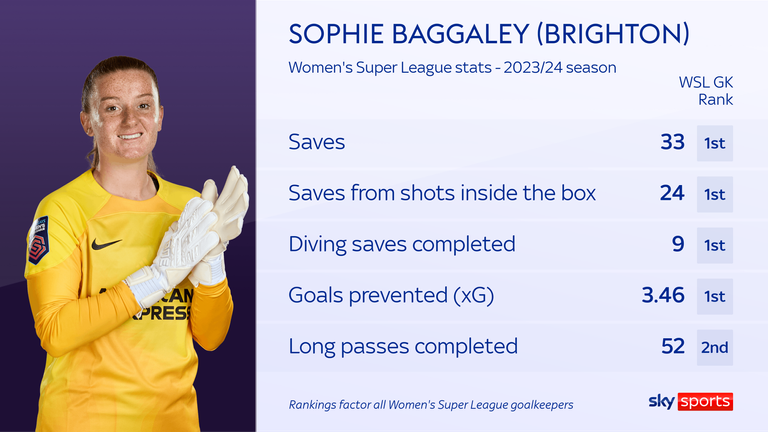 Instead, Baggaley looks at the performances of her team-mates as the reason why Brighton kept a clean sheet at City – most notably the displays of centre-backs Maria Thorisdottir and Guro Bergsvand last weekend.
"They were just really, really solid, plus Jorelyn [Carabali] came into centre half in the second half. They just limited their chances into stuff that was really easy for me or they managed to get the team behind the ball. I would like to give a massive shout out to those three players.
"They're both really calm, collected people. That just spreads across the team, even though we faced so many shots it didn't feel we were under that much pressure. That gives us a lot of confidence going into the next game."
Highlights from the WSL clash between Manchester City and Brighton

Brighton's new goalkeeper is modest and doesn't ask for the limelight. In fairness, that's been the name of the game for the past two years.
At her former club Manchester United, Baggaley was the back-up goalkeeper to Mary Earps, now deemed one of the best shot stoppers in the world, if not the outright No 1 of No 1s.
"I'm thankful for that experience," Baggaley says about her time working alongside the Lionesses star. "We trained well together but we also liked to have fun."
And any tips picked up from Earps? "Just the consistency of training day in day out, she brought her best every single day and I tried to do the same. That consistency is what helps you to progress."
Earps could have left United over the summer, where news was dominated about whether the Lionesses goalkeeper would swap Marc Skinner's side for a new venture, with her contract running down.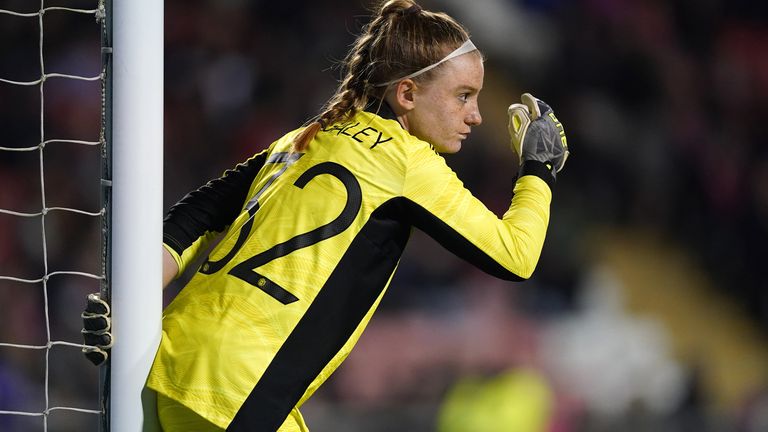 That could have opened the door for Baggaley to stake a claim for the No 1 shirt at United. But once Earps committed to staying for the season, her mind was made up.
"It wasn't a difficult decision. I hadn't played in the league in the time I was there," says Baggaley about her United departure. "I had to move to make that happen.
"I had a great time there and developed a lot as a goalkeeper, even though I didn't play. But I don't think it was a hard decision, it was something I wanted to do. It was hard to say bye to some of the faces but I don't regret anything about the move.
"The vision of this club, they're aiming high. They're going about it in the right way, I heard good things about Mel and the goalkeeper coach here. It's an exciting project to come into and a club that is doing everything right."
Brighton chief executive Paul Barber discusses his plans to build a stadium specifically for the Brighton Women's team and how he aims to adapt the stadium to meet female athletes' needs

Brighton moved for Baggaley on WSL Deadline Day and oh, was it so tense on the final day of the transfer window.
The goalkeeper arrived at Brighton's training ground at 4am but a long wait for the paper work meant she only signed on the dotted line 15 minutes before the 11pm deadline. "I'm not doing that again!" she says. "It was something to be a part of!"
Baggaley was one of 11 signings made by Brighton over the summer under relatively new coach Melissa Phillips. Thorisdottir and Carabali were others, while high-profile names Pauline Bremer and Vicky Losada made many pick the Seagulls as having the best window out of the 12 WSL teams.
While that has helped Brighton this season, it did cause some difficulties, according to Baggaley. "They're all high calibre players and they've all got different experiences," she says.
"But the biggest, not problem, but the thing that we needed to sort out was the team gelling as a whole. Everyone had the mentality that individually you had to be ready.
"I think we've done a good job at gelling and I think there have been times where you could tell there have been a few faces, but in the last few games especially, you can't tell that at all."
It certainly makes sense in terms of Brighton's season so far. An opening weekend win at Everton was followed by back-to-back losses against West Ham at Tottenham. A quadruple-header against Chelsea, Man Utd, City and Arsenal followed – but Phillips' Brighton have shown they are improving.
The Seagulls gave Emma Hayes' Chelsea a major scare, leading for most of the first-half until their quality eventually came through with a 4-2 win. But then came a draw against Manchester United, which was followed by the win at City. Now it's Arsenal at Broadfield Stadium on Sunday, live on Sky Sports.

Sunday 19th November 1:00pm


Kick off 2:00pm

"If you look from game to game, we made good progress from each," says Baggaley about this tricky run.
"The Chelsea game, we showed a really good glimpse of not just defensively, but we created chances throughout the match. That's been a big thing: we've carried on creating chances whatever the situation.
"Then the United game, we were disappointed not to come away with the win, being so close, but then we took that into the City game we managed the game a lot better, then get that win.
"It's early days still but you can see teams in the middle pack are taking points off the top teams. On anyone's day, they can get that result and it will be interesting to see how that develops in the season.
"But we as a team feel we can get results off the big teams and others feel the same. There's a lot of quality in the WSL, each year more quality is added and it's starting to even itself out in the teams. So the overall quality is improving and the gap's closing."
Watch Brighton vs Arsenal in the Women's Super League live this Sunday on Sky Sports Football from 1pm; kick-off 2pm.
Stream the WSL and more with NOW