Jamie Carragher says Aston Villa are a better coached team than Manchester United and believes Unai Emery has claim to be the third best manager in the Premier League behind Pep Guardiola and Jurgen Klopp.
Aston Villa secured a 13th straight home league win with a 3-1 victory over Fulham on Sunday, matching the 13 in a row achieved in 1983.
The result at Villa Park saw the club equal the post-war club record for successive top-flight home victories also making it six wins out of six at home in the Premier League this season.
Emery's side sit fifth in the Premier League table. They are now just one point outside the top four behind fourth-placed Tottenham, who they face on Super Sunday (November 26, kick-off 2pm) when the Premier League returns after the international break.

Sunday 26th November 1:00pm


Kick off 2:00pm

Villa are also just three points behind league leaders Manchester City and Carragher, speaking on Super Sunday, thinks there's a case to be made for Emery being the third best manager in the league behind Guardiola and Klopp and ahead of the likes of Mikel Arteta, Mauricio Pochettino and Erik ten Hag because of the trophies he has on his CV.
FREE TO WATCH: Highlights from the Premier League clash between Aston Villa and Fulham.

Villa's impressive home form continues…
Aston Villa have won each of their last 13 home games in the league, which is their longest such run in the top-flight since October 1983 (also run of 13).
Furthermore, Villa have won 14 home games in the Premier League in 2023 – as many as in the previous two calendar years combined.
"You can make an argument that Unai Emery is the third best manager in this Premier League," the former Liverpool defender said.
"You've probably got Jurgen Klopp and Pep Guardiola, they are Champions League winners.
"But when you look at the body of work of Unai Emery, not just at Aston Villa, he's continually winning Europa Leagues.
"Mikel Arteta and even Mauricio Pochettino haven't got that CV in terms of winning trophies."
Richards: What Emery is doing at Villa is sensational
Sky Sports Micah Richards:
"I cannot believe what Unai Emery is doing at Aston Villa. It's sensational.
"They have some good players but to sustain this for as long as he has with the football that they have played.
"They have a really good system and have players who have been around the club a long time. The likes of John McGinn, he's flourishing under a new manager.
"They just manage to keep going and going."
'Villa are a better coached team than United'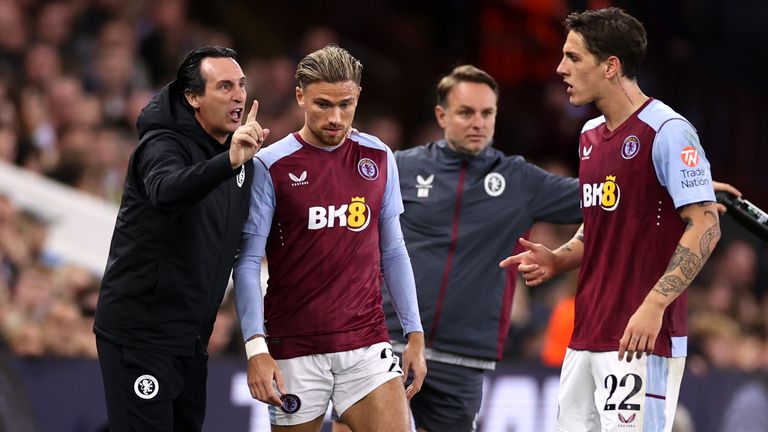 Villa are firmly in the race to finish in the top four after 12 games and heading into the final international break of 2023.
If they end the season in fifth that could also be enough to qualify for next season's Champions League with potentially five Premier League teams qualifying through their league position.
However, Carragher believes a potential long run in the Europa Conference League under Emery could hinder their chances of Champions League qualification.
Asked if Villa could finish above the likes of Man Utd and Newcastle, Carragher said: "If you back over the last 12 months since Unai Emery came in, if you are talking about Manchester United, Aston Villa are a better coached team than United. There is absolutely no doubt about that.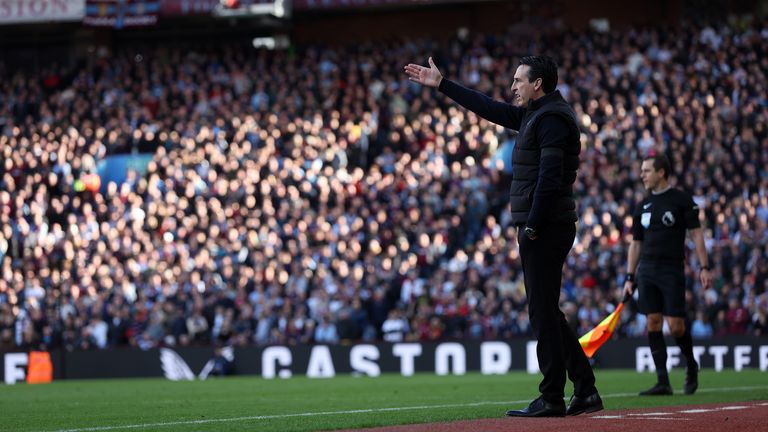 "The problem Villa might have is that I think they will go far in Europe because of the manager they have and the quality he has.
"I can see them doing really well in the Europa Conference League. So in the second half of the season, they could be playing a lot on Thursday and then Sunday.
"In terms of Manchester United and Newcastle, there's a good chance they may not even have Europe in the second half of the season. They could quite easily finish bottom of their Champions League groups so they wouldn't even go into the Europa League.
"That could be a deciding factor."
Sturridge not surprised by Villa form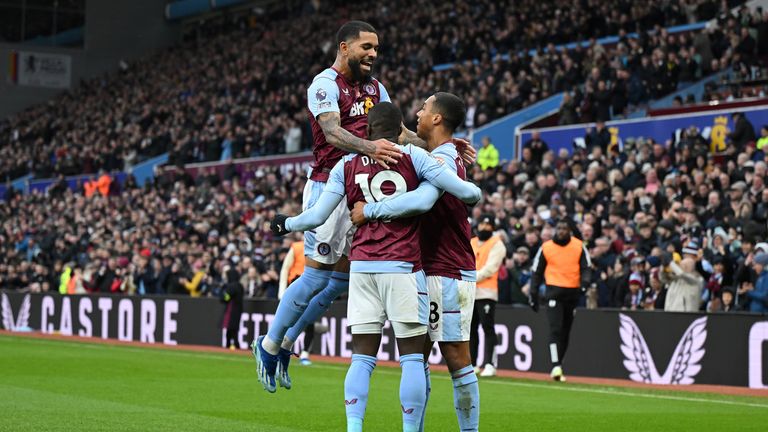 Daniel Sturridge isn't surprised by Aston Villa's form this season but believes Manchester United and Newcastle cannot be ruled out of finishing in the Champions League places.
"I said before the season started that I thought Aston Villa were a really good team," the former England striker said on Super Sunday. "I thought they'd surprise people, and they are showing this now.
"I've heard from a lot of players about how good a coach [Emery] is.
"He's worked at some big football clubs. Make no mistake, there are a lot of owners out there who believe this guy can change the landscape of their football club."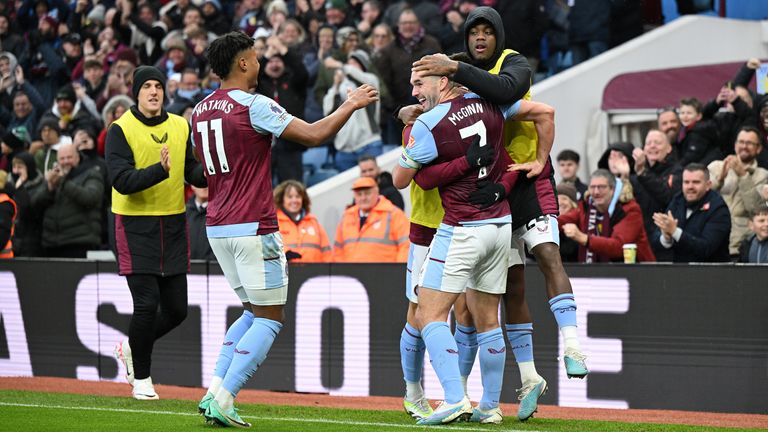 Richards on race for the Champions League…
Sky Sports' Micah Richards:
"It all depends on injuries.
"Newcastle were absolutely firing and they've got a few injuries and they don't look the same team.
"Being in a lot of competitions was always ging to hinder Newcastle this season.
"Maybe Aston Villa are the team to break in."
Sturridge added: "Manchester United are in there and are getting results.
"They are not playing great football at the moment, but I think they will be happy with where they are right now, considering how they have performed.
"They are in with a shout of the top four. There's Newcastle who are sometimes good and sometimes bad.
"It's going to be interesting, but it is still very early in the season."
'Villa have great opportunity to reach Champions League'
Clinton Morrison on Sky Sports News:
"Despite a better second-half performance, Fulham never really threatened to win that game.
"Aston Villa were comfortable. That home form at Villa Park gets better and better.
"They are producing fluent performances and scoring bundles of goals.
"Unai Emery has done a fantastic job there. It's another really positive performance from Villa.
"The only downside is the goal they conceded but Villa are flying. You can give them nothing but praise because they have been magnificent all season.
"I think it's five teams that can get in the Champions League for next season. Aston Villa have a great opportunity. The way they are playing and the football they are producing, they can finish in the top five."
What's next for Aston Villa?
After the international break, Aston Villa travel to Tottenham on Sunday November 26, live on Super Sunday on Sky Sports; kick-off 2pm.