England's final home match of the year will be remembered for the pre-match tributes to Sir Bobby Charlton rather than the football that followed as Gareth Southgate's side limped to a 2-0 win against Malta.
Friday's European Championship qualifier at Wembley saw the senior men's team play their first match since the incredible 1966 World Cup winner died at the age of 86 last month.
A fan mosaic, video montage and minute's applause formed part of a fitting farewell to Charlton before the current crop made hard work of a simple assignment against the side ranked 171st in the world.
Southgate is dealing with a number of absentees right now and his side are already assured of qualification for Euro 2024, but this was hardly the entertaining display he hoped to put on for the 81,388 in attendance.
Sky Sports' Ben Grounds picks out the key talking points as England laboured to victory…
More frustration for Rashford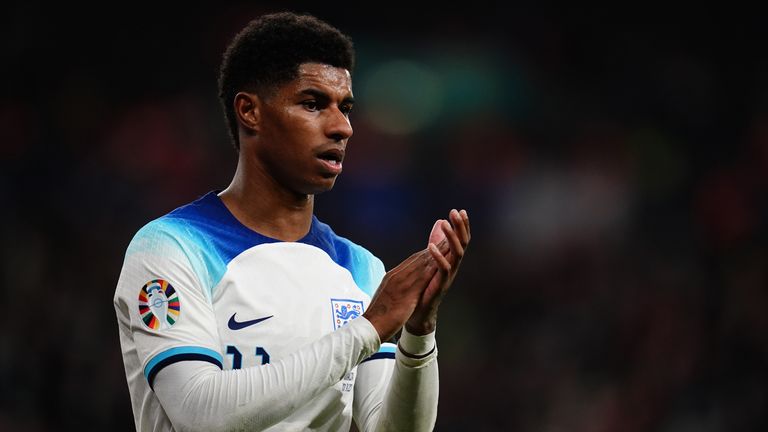 Southgate showed faith in Marcus Rashford, despite just one club goal this season.
His three goals and two assists in his last five appearances for his country were used to support his manager's case for inclusion, but here Rashford cut a frustrated figure as he has done for much of the campaign with Manchester United.
After being on the fringes of the game in the opening half, things improved in the second but a poor touch and a bit of hesitation meant he couldn't get a shot away on one occasion.
An accidental collision with Alexander-Arnold led to his premature withdrawal. It compounded his night, and epitomised his season.
"We think he's OK," Southgate said afterwards. "It was just the nature of the collision, but it was a chance to get Cole [Palmer] involved. But we think he's OK."
Sky Sports News' Rob Dorsett and football journalist Peter Smith reflect on England's unconvincing 2-0 victory over Malta in Euro 2024 qualifying.

Alexander-Arnold warms to midfield role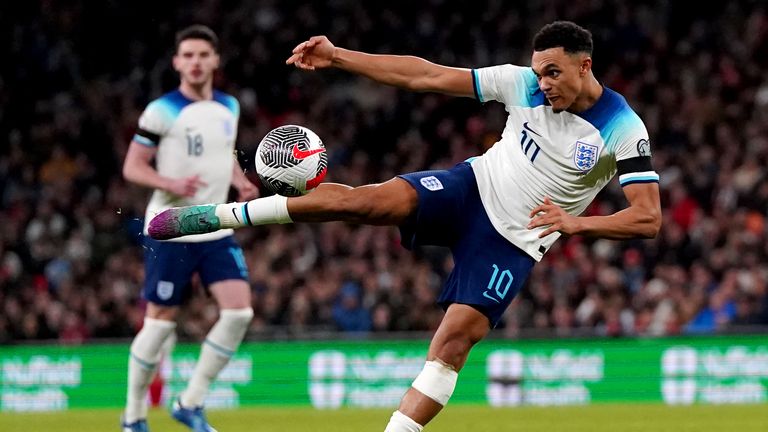 Something didn't quite feel right in the first half at Wembley. Jordan Henderson and Conor Gallagher playing either side of quarter-back Trent Alexander-Arnold wasn't easy on the eye.
From inside 29 seconds, when Gallagher was dispossessed and led to an early chance for Teddy Teuma, the profile was too similar and yet unfamiliar.
It was only in the second half where Alexander-Arnold's range of passing truly came to the fore. He was involved in the build-up to Harry Kane's clincher and was also part of the move which led to Declan Rice's rasping effort that was disallowed.
Despite an unconvincing 2-0 win over Malta, Bukayo Saka is pleased that England moved ever closer to securing one of the top seeds at Euro 2024.

His own finishing was off, but he never shied away from looking to make things happen in his new role.
Southgate said on Alexander-Arnold's performance: "I thought he used the ball really well. He has some outstanding quality, him and Phil in the first half were the two that really looked like opening the game up for us.
"I thought Marc Guehi was [also] very good at the back – he's got another game under his belt and looked very, very calm. And then the changes brought some quality as well.
"In the second half we could have scored more. We obviously didn't create as many chances as we wanted to."
Time for England to move on from Henderson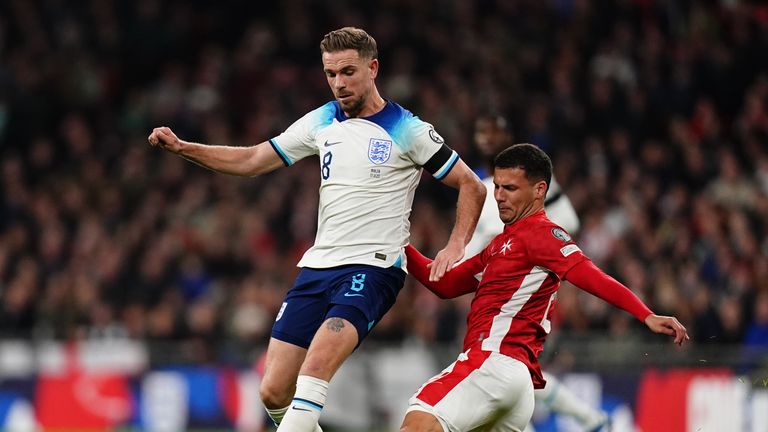 Southgate stuck with Henderson in midfield despite England's lowly-ranked opponents. For those in attendance, on a cold Friday night a little over a month before Christmas, it wasn't an inspiring selection from Southgate.
In fact, it felt ultra-defensive. Henderson was again booed off when he was eventually replaced by Declan Rice. England immediately improved. In fact, Southgate ended the night with the side he really ought to have started.
The most noticeable part of the evening was the jeers that greeted the vice-captain when he was substituted as some fans continue to oppose his Saudi Arabia move.
When asked to assess Henderson's performance, Southgate preferred to focus on the collective display.
"We were too stretched as team so I felt there was too much space for our midfielders to cover," he said. "It meant we weren't getting enough pressure. Our defenders were in a race with balls in behind."
Rice, Foden and Palmer impress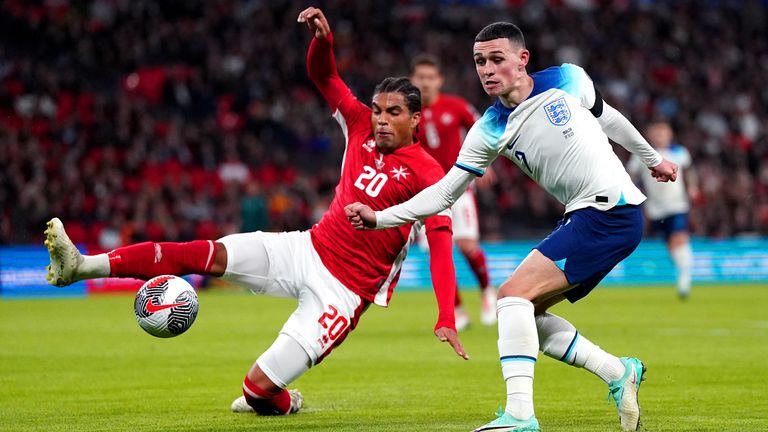 Cole Palmer ducked his shoulder to lose his marker with his first touch. It was a bright cameo from the new darling of Fulham Road. Palmer should have started here.
There were further demonstrations of his almighty promise on the left flank, and he drew a foul on the edge of the box that deserved better from Alexander-Arnold's subsequent erratic free-kick.
Rice was a level above those he joined and replaced in midfield, with his marauding run and finish aided by Phil Foden's running off the ball. It was Foden who performed consistently across the piece, and this was timely for the Manchester City forward after his recent struggles with the Three Lions.
Southgate believes Foden is capable of playing in multiple positions having operated on the right and behind Kane on Friday, saying: "I feel he can do either. His quality in a wide position is good and as a No 10 he can also provide that link.
"We were missing two 10s tonight and we have options in that position. Phil is a lovely footballer and was involved in most of our good play tonight."
Was Kane right to be booked for diving?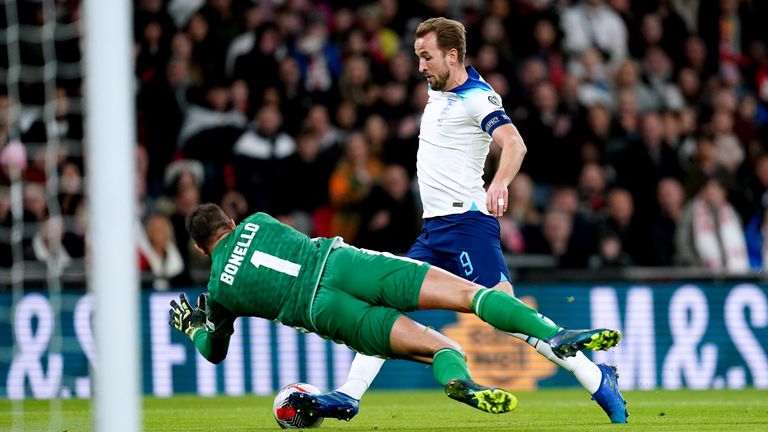 It felt very harsh, but referee Luis Godinho showed no hesitation. Harry Kane felt the contact from Henry Bonello, went to ground and heard the whistle blow. He thought it was a straightforward decision, but to his amazement, the match official viewed the England captain to have dived.
With VAR in operation, you thought upon review it would be overturned, but the game immediately resumed. Kane was accused of simulation and booked. It was that kind of night for everyone in white, but Kane dusted himself down to get his customary goal in the second half to extend his record as the country's leading goalscorer.
Southgate said: "I thought the yellow was a bit harsh. There was definitely contact, that was pretty clear."
Southgate makes his point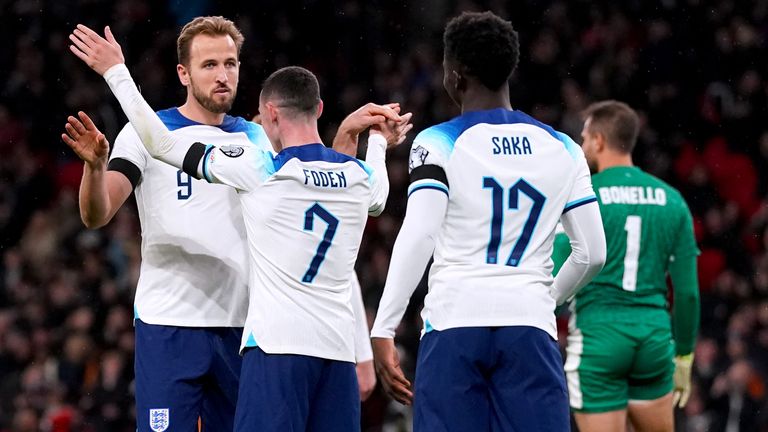 Glory in Germany is the sole focus and Southgate dismissed the suggestion that his players taking their foot off the gas at home to Malta was a worrying sign.
"No, it's not a worry because I think sometimes when players have so many matches they almost self-regulate," Southgate said.
He had a point. At times, especially as Malta fatigued and showed little life left in the closing stages, this was about survival and reaching the final whistle without injury or any incidents.
With a hectic Christmas schedule awaiting most of these players, you can understand why England opted to secure the three points with minimum fuss. It took until the 64th minute for them to register a shot on target – the first time they had failed to do so in the first half of a home international since in a friendly against Germany in November 2017.
Here, they did miss the guile of Jude Bellingham and Jack Grealish, who draw two men at a time with their technical ability.
Fikayo Tomori played at left-back, which made it hard in turn for Rashford to build down that flank. Southgate acknowledged his side didn't hit the heights they have reached at times during this calendar year but all that matters is that England are one of the top seeds in the draw in Hamburg on December 2.
Barring a 9-0 defeat to North Macedonia on Monday, that has been achieved.