Ian Evatt's three-and-a-half years in charge of Bolton Wanderers is near enough a Sir Alex Ferguson-style tenure in the modern game.
The 41-year-old is the sixth longest-serving manager in the EFL, and the 11th in the country.
At another club, it is a tenure that would likely have ended before it had begun. In 2020, Evatt took over the club at their lowest ebb in League Two, and at one stage in the middle of his debut campaign they were as low as 19th in the table.
But the trigger wasn't pulled, and things finally clicked before Bolton won promotion after a marauding end-of-season run. Evatt has since gone on to establish them in the upper echelons of League One as they continue their rise back up the pyramid.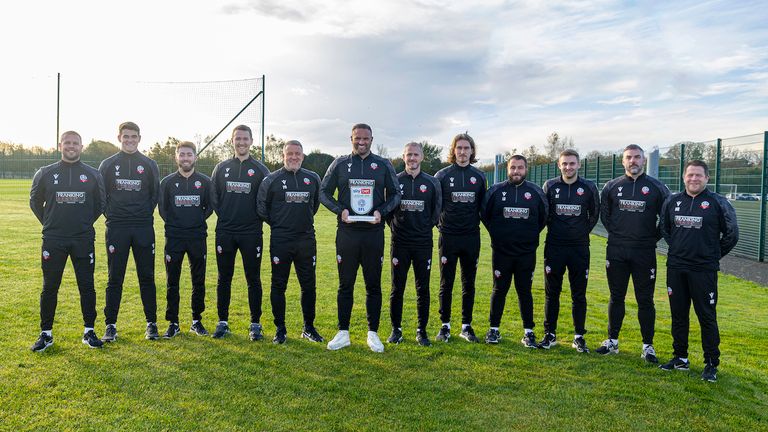 "I've been fortunate enough to have that time," Evatt tells Sky Sports after winning Sky Bet League One Manager of the Month for October.
"Hopefully what we do here is an example to other clubs that we shouldn't be so emotional and reactionary. We should give managers the time to impose their ideas.
We're the only business in the world that seems to react to revenue and results week by week rather than in year-long reviews. But that's the nature of football.
"Barrow was an incredible start to my career, but to find a club of this stature in League Two was a rarity, and to get the opportunity to rebuild and create an identity we can all be proud of here, I feel incredibly blessed to have this job.
"The fan base is enormous and it carries a huge expectancy, but we're embracing that.
"We want to get back into the Championship, there's no point in me denying that. But there are 23 other managers that want the same thing."
Highlights of the Sky Bet League One clash between Bolton and Blackpool.

Evatt and Bolton could have taken a step closer to realising their ambitions, but fell short in the play-offs last season, losing to Barnsley in the semi-finals.
Having won the EFL Trophy at Wembley earlier in the season, he admits he was gutted not to reach that stage again to try and replicate that success.
"I didn't really stop thinking about it to be honest," he says. "This job comes with huge sacrifice, and I want us to be the best we can be. It hurt us all summer and we had to work and go again.
"We went into the play-offs in really good form with great confidence we could get the job done. Losing that game hurt me, and us as a club. It was about switching on really quickly and seeing how we can improve.
"It's easy to have ideas and goals, it's turning them into reality which is the challenging thing to do. We've worked hard since, and we're hopeful this season we can progress further.
"It's the nature of football that you're going to have setbacks, it's just about how you recover from them. We've reacted in the right way."
Bolton were, in the end, outmuscled by Barnsley in their play-off tussle last season, and it was a string that Evatt felt needed adding to the Bolton bow.
Our style doesn't change home or away and we always want to dominate possession and be aesthetically pleasing to watch," he says.
"But we have tried to improve from set-pieces. We needed to arm ourselves with as many different ways to win football matches as possible. So far this season we've managed to do that."
And the level of resilience has helped Bolton enjoy their best start under Evatt, who traditionally endures a slow start to a campaign as a manager.
"This is the most points we've had at this stage since I've been at the club," he says. "Historically my teams always finish strongly, so for us it's just about striving to put together a consistent season that isn't front-loaded with poor results.
"If we keep everyone fit and healthy and in one piece we've got a competitive squad that can do good things in this league.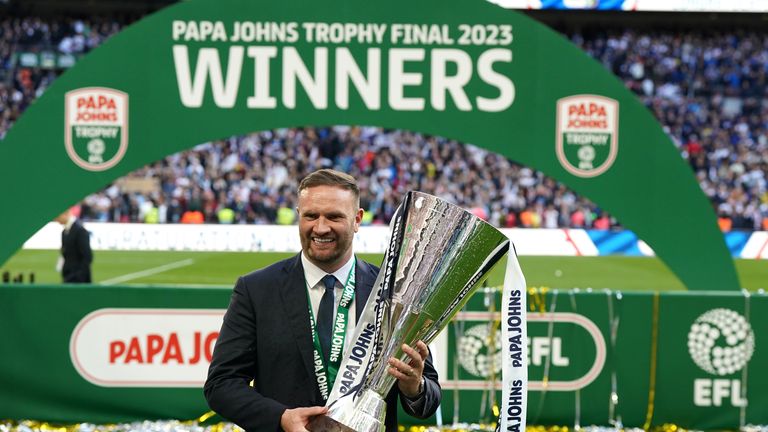 "There are some massive clubs in this league, but there aren't any huge outliers in terms of spending. In the last couple of seasons there have been teams with enormous budgets and real pressure to get promoted. What we're trying to do here is slightly different. We want to be sensible, smart and sustainable.
"But there are 23 other managers who want what I want. We need to stay humble and work hard to improve. I feel there's a lot more to come from this group."
Bolton and Evatt seem to be aligned in their aims. It is a club that has rediscovered its soul.
"One of the biggest reasons I took this job was because this club shared my ambition for where I wanted to go in my career," says Evatt. "We've got something here that's almost unique in football, and everyone has bought into the project, the brand and the identity.
"We've had promotion, the EFL Trophy win. Some success. Wembley was a great day for this club because of where we've been. We almost lost the club a few years ago, and we needed that big day to show it's on its way back.
"Winning is a habit, and winning the trophy felt good because it increased our appetite to make sure it happened again.
"We're still only part way along the journey, but we've got to the stage where the club isn't broken anymore. We've reconnected with the local community, we've built the football department. We're fully functioning again.
"We want to get the club back to where it belongs. I believe this is a Premier League club."
That may still be a little way away, but Bolton and Evatt have the plan and the patience. The next step is the Championship, and a first return there since 2019 looks very much on the cards.