League One is loaded. Derby County and Portsmouth have been champions of England, the four-time FA Cup winners Bolton are currently second, while there are five other former Premier League clubs also competing in the third tier of English football.
But the team at the top of the table are chasing a first-ever appearance among the nation's top two divisions. Exeter City spent five seasons outside the Football League in the 2000s but now this fan-owned club is dreaming of an unlikely promotion.
"We are competing with teams capable of paying a fortune," Julian Tagg tells Sky Sports. "Whether we are there at the end of the season is another matter. But, right now, we are having our moment. If we are there at the end that would be astounding."
Watch highlights as Exeter City moved top of League One with victory at Burton Albion

Tagg, Exeter's president, knows just how astounding because he was there at the beginning of this journey. 20 years have passed since Exeter City Supporters' Trust purchased the Grecians. The situation was dire. "The starting point was £4.8m in debt," he says.
"I could not have imagined a better outcome at the start given the disastrous position, the disastrous financial position. We could not pay the players, pay the manager. It is a long and hard road with highs and lows. Look where we have come from. It is quite amazing."
There are still challenges.
"It is like a treadmill that is going all the time. But sometimes that treadmill gets put in a pressure cooker." But Exeter have endured. "Maybe it is the Devonshire air. That song, 'We get knocked down but we get up again'. That is exactly who we are. We do not give in."
There is pride because of the spirit, pride because of the path taken, and pride because of the ownership structure. "There is a very democratic process. You can end up in the boardroom. Literally. Every club is a family club. This one is owned by the family."
None of which explains this. Top of League One. A possibility of going three points clear with victory on Saturday. Off-field success is one thing but on it? That, one feels is a surprise. Putting that thought to Tagg, he is in no mood to disagree. "You and me both," he replies.
Exeter have done better than most with their managers. From that firefighting start under Eamonn Dolan to the back-to-back promotions under Paul Tisdale. The club became a bastion of talent development, bringing through Ollie Watkins and Ethan Ampadu.
Promotion back to League One with Matt Taylor in 2022 was another high and when he left for Championship club Rotherham United in October, the club turned to Gary Caldwell. A mid-table finish made light of that upheaval. Exeter continue to evolve.
"It is not the survival of the fittest, it is the survival of the adaptable, so you are not looking for the same thing," explains Tagg. Caldwell, 41, won the double with Celtic as a player and the FA Cup with Wigan, before winning the League One title with the latter as a manager.
"We have a manager now who has played and managed at a higher level. At this moment, he has taken us to the highest level that we have ever been at. It has been a clear and conscious effort to look for what is required at each stage as the club evolves."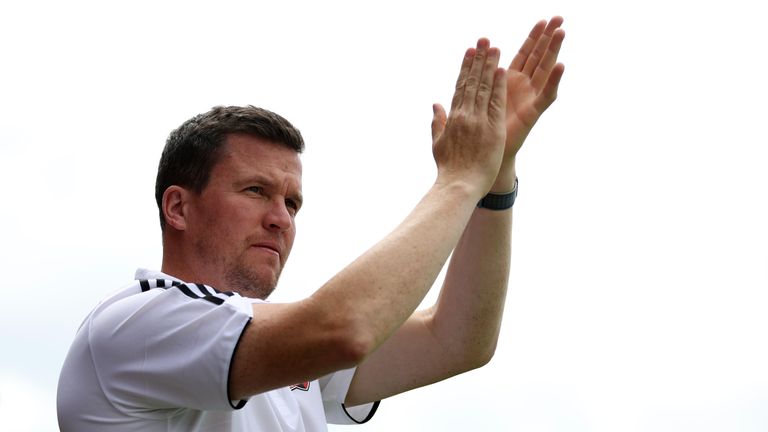 The Exeter City of 2023 is testament to that evolution, that organic growth. Earlier this year, they moved into their new training ground. Planning for that had started in 2014. "One of the few downsides of trust ownership. Everything takes longer. But we get there."
The investment has long been a virtuous cycle. Exeter's installation of a 3G pitch in 2017 undoubtedly helped them to attract and develop players. "We did not have to train 20 miles away because people had got up in the morning and it was too wet," says Tagg.
From a professional point of view, in terms of preparing a team, and in terms of the hours that the youngsters have been able to use that pitch, it has been a huge factor in our progression." Players are developed, players are sold, and the money is reinvested.
I am sat in a building now that cost £3m. It has transformed the conditions that players and staff are working in. Behind me is a canteen with a chef preparing lunch for when the players come in. It is not that long ago that players had to take the kit home to wash.
Exeter will keep selling players. Sam Nombe, last season's top scorer, was sold to Taylor's Rotherham just before the deadline for a fee believed to be around £1m. Josh Key had already left for Swansea. Many more have departed, some turning down new deals.
"The boot room was cleared out. We pretty much started again."
Exeter have found new players. They always do. Marcus Flitcroft, the head of recruitment, has "done a fantastic job" while Caldwell has brought his contacts book. Importantly, Alex Hartridge is one of six youth-team products to have already featured this season.
"What has impressed everyone is that the manager has embraced the club. He understands that sometimes we have to sell when we don't want to. He understands that we have to bring youth players through because that makes a big difference to the budget."
Ryan Trevitt has excelled on loan from Brentford. Reece Cole, signed from Hayes & Yeading in the summer, scored the winner against Reading. Tom Carroll, the former Tottenham midfielder, and Finland international Ilmari Niskanen are recent arrivals at St James Park.
"Now we have internationals here," laughs Tagg.
"That is a new one for us,"
Highlights from the Carabao Cup second round match between Exeter City and Stevenage

With attendances on the rise, Exeter's Big Bank makes for a special fan experience. The city's rugby union side were champions of Europe as recently as 2020 but there is another sporting institution flexing its muscles now. And all done as a supporter-owned club.
Perhaps the mistake is to frame Exeter's rise as miraculous because it has been achieved organically. Maybe it is the reason why.
The government are very interested in what we are doing. It is not the model is it? We are having to work really hard to be sustainable and still be competitive. It is not getting any easier. Let's not pretend. But we have found something that works.
"I am not sure all the fans understood in the early days. Why would they? But they understand now. That makes a difference. Everybody in football wants instant success but the fans are very engaged in the process and they absolutely feel part of it.
"Being top of the league is just the icing on the cake."
How far can it take them? How long can this continue? Tagg is realistic. Gravity may take effect. But there are still marginal gains to be found. "We have improved immeasurably but there is more to do. We still need to find ways to find that extra few per cent," he says.
"I know the depth of the squad is where the bigger clubs will find their advantage eventually. But who knows? The new manager is definitely doing it his way. The quality of what we are doing on the pitch is clear. The future is bright, the future is red and white.
"And the seeds of that tree were planted long ago."