Emma Hayes felt her Chelsea side had been "robbed" after they were held 2-2 at Real Madrid in their Champions League opener.
In a contest with no VAR in operation, Real equalised through a 79th-minute Olga Carmona penalty awarded by referee Frida Klarlund for a Jessie Fleming challenge on Athenea del Castillo – which Hayes had no doubt took place outside the box.
The Chelsea manager was also unhappy about Niamh Charles' finish being disallowed in stoppage time, seemingly for offside, stressing that Charles had been onside and Sam Kerr had not interfered with goalkeeper Misa Rodriguez.
Hayes told reporters in Spain: "I could see from the bench that the tackle (for the penalty decision) was outside the box. So I'm absolutely shocked that those managing the game couldn't see that.
UEFA statement on lack of VAR across UWCL
UEFA have given the following response to Sky Sports News after we questioned why there was no VAR in the Women's Champions League group stage.
"The implementation of Video Assistant Refereeing (VAR) in European competitions involves significant technical, operational, and logistical challenges.
"To address these challenges, UEFA has developed a gradual plan to introduce VAR in the majority of matches, starting with men's and women's club and national team competitions.
"UEFA already plans to implement VAR at the UEFA Women's Nations League finals next year and will continuously evaluate the possibility to implement VAR in competitions or stages of competitions where it hasn't been so far.
"Kindly note that VAR was implemented at all 31 matches of Women's EURO 2022, in the play-offs of the European Qualifiers for the FIFA Women's World Cup 2023, and the UEFA Women's Champions League knockout rounds and final in the last two seasons as well as the finals in 2021 and 2020."
"Of course maybe Jessie shouldn't lunge in that area, but it happens clearly outside the box. At this level when you are in control of a game and important decisions like that go against you, it makes it difficult."
Regarding the stoppage-time incident, she added: "We score a really legitimate goal with Niamh Charles three or four yards onside.
"It is embarrassing. I had to check why it was disallowed. Was it Niamh? No. Was it Sam (Kerr) interfering with the goalkeeper? She was about seven yards away, no way near the keeper.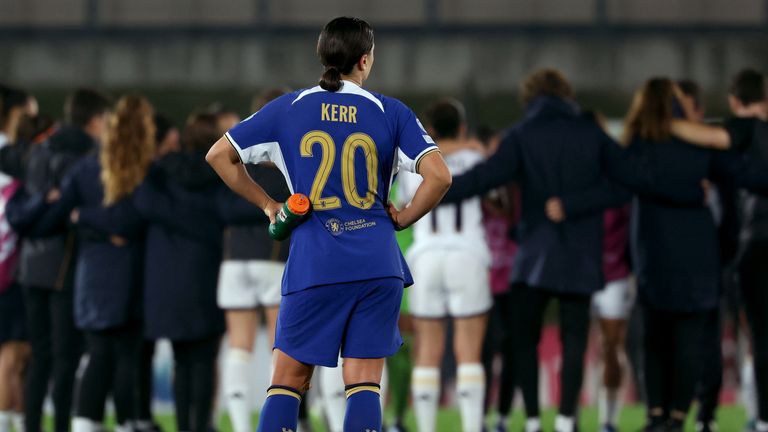 "I cannot understand the decision whatsoever. I think we've been robbed of what was a 3-1 game.
"You can't (ask the referee for clarity at full-time). You're not allowed to speak to the officials. Can't speak to them there (on the pitch), can't speak about it here (to the media).
"For me I am going to focus on the performance, I can only control that. Everybody saw the decisions, you don't need me to comment on them any further."
Real took the lead at the Alfredo Di Stefano Stadium through a deflected 10th-minute shot from Carmona – scorer of Spain's winner against England in the summer's World Cup final – before Chelsea hit back through two headers, Charles equalising in the 41st minute and then setting up Kerr in the 74th.
After Carmona levelled from the spot, Lauren James hit the crossbar before the late disallowed effort as the visitors were unable to secure a winning start to what is to be their final Champions League campaign before Hayes leaves at the end of the season for the United States job.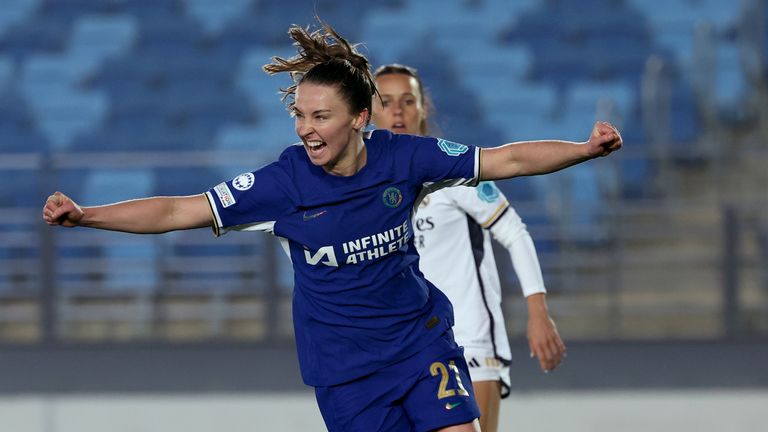 Hayes said: "I think the performance was well controlled by us, especially away from home in Europe. We had so much more of the ball and it was comfortable.
"(There was) just a tactical adjustment that we had to make (at half-time) – the pivots weren't carrying out a small detail there. Overall it had to be better in the final third, either the last pass or whatever it might have been.
"I think the team did better with that (in the second half). We hit the bar as well, we should have scored from that. We had chances, so we should be disappointed with ourselves.
"I can't remember the last time we were in a game like that when two humongous decisions like that have gone against us – that is a lot tonight."
Wednesday's earlier game in Group D saw Paris FC – who Chelsea play in their next pool game at Stamford Bridge next Thursday – beaten 2-1 at home by Swedish side BK Hacken.