A furious Scott McTominay branded Georgia's players "cry babies" and a "disgrace" for their behaviour in Scotland's Euro 2024 qualifying draw in Tbilisi.
The Manchester United midfielder, who scored his seventh goal of the qualifying campaign in the 2-2 draw, felt their opponents were constantly trying to influence the referee.
The stop-start game, which saw six yellow cards and 32 fouls given with a melee in each half, angered McTominay.
He told Viaplay: "Every game at this level is big, and obviously they have got some really, really good footballers but tonight I thought the way they were acting was a disgrace in terms of provoking the referee as well.
"Anyway, that's football and that's sometimes the way it goes. We have to keep our heads but it's difficult.
"There's some disappointed people in the dressing room but I feel like it's something we can build on after coming back twice.
"They should do something about people pretending that they're injured when they're not.
"It's a difficult one to call but rolling around, crying like babies all afternoon is not football.
"For us we just wanted to get on with the game and play and do our best. Whereas the other side was provoking the referee a lot."
Clarke praises Scotland for keeping their heads amongst 'shenanigans'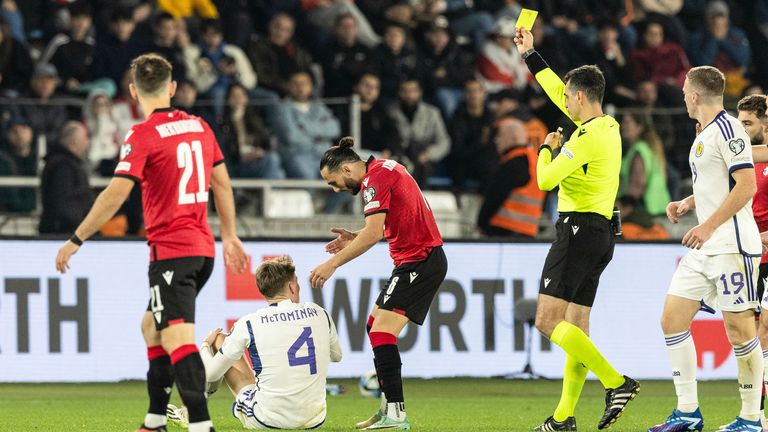 Scotland manager Steve Clarke praised his side for keeping their cool and using Georgia's time-wasting "shenanigans" to their advantage.
The 60-year-old felt his side reacted well to some lengthy stoppages for treatment to home players and took advantage of the eight minutes added on.
Clarke said: "That's one of the challenges when you come here, you know they will do everything they can to get a positive result.
"You have to react to that. We have to make sure we control ourselves and don't get involved, don't encourage any sort of shenanigans.
"We just kept going, kept plugging away, we knew there was going to be extra time because now they have a better handle on time wasted, and it was nice to score in injury time."
Lawrence Shankland was dropped from the squad last month but responded by hitting five goals in his last five games for Hearts. And the striker seized the chance presented by Che Adams' withdrawal with Scotland's late equaliser.
Former Scotland defender Charlie Mulgrew believes Lawrence Shankland should be in contention for a Euro 2024 place after his stoppage time equaliser against Georgia

Clarke said: "When you are going into the last 10 minutes, and knowing we would get a lot of injury time because Georgia spent a lot of time on the floor, we knew there was time left.
"We needed a goal and you know Lawrence has always got a chance of getting a goal. I am delighted for Lawrence and delighted for the team as well."
Shankland's last-gasp goal ended a run of three defeats and a losing run in Tbilisi.
"If you can't win the game, don't lose," Clarke said. "We did that and showed good character to come from behind twice here in a difficult place.
"Georgia are a good team with one exceptional player in Kvaratskhelia. He got two great goals and made it difficult for our defenders.
"Overall we got lots of shots on goal, we could have been a little bit more clinical, only five on target with the 16 or 17 shots we had. But we showed resilience and it was important not to lose.
"We knew coming here would be tough. Scotland had been here twice before and didn't score, lost both games. So we knew it would be a tough game.
"We wanted to come here and hopefully get back to winning ways, but we have broken that run of defeats and we will look to build on that in the Norway game on Sunday. We will look to finish with a good performance and a home win."
McTominay: Substitutes made a 'big difference' in draw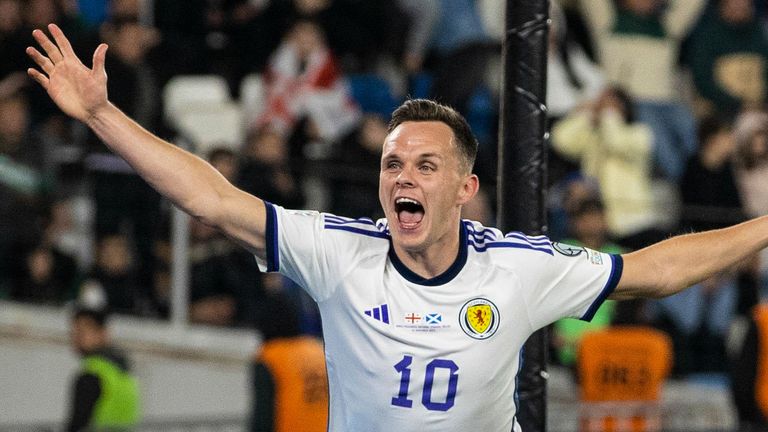 McTominay praised Scotland boss Clarke for making changes that made a "big impact" on the game.
Shankland came off the bench to score the stoppage-time equaliser, while half-time substitute Kenny McLean set up McTominay for Scotland's first leveller.
"The substitutes made a big difference," McTominay added to Viaplay. "That's what the manager demands when you do go out on the pitch. You show something and you bring something additional to the team.
"All of the guys who came on made a big impact and Shanks scored a brilliant goal.
"For us, we've had some really good nights and we'll also have some not-so-good nights when we don't play quite as well.
"It's important on the nights that we don't play as well that we still stick together and try not to lose and most definitely try to win."
Scotland booked their place at next summer's tournament last month and the draw keeps their slim hopes alive of topping Group A ahead of Spain.
Asked if complacency had set in after already qualifying for the tournament, McTominay replied: "Do you know what, not at all.
"The messages we've had since we've been away have been more of a firm talking to in terms of 'Come on, we need to wake up again, we've lost three games in a row against England, Spain and France'."