UK police issued the highest number of football banning orders in more than a decade last season – although new figures also show that a record 45 million people attended men's domestic and international football matches.
The statistics, released annually by the Home Office, show that on average there were just five arrests for every 100,000 supporters who attended stadiums.
"That 45 million is the highest attendance figure ever," Chief Constable Mark Roberts, the head of UK football policing, has told Sky Sports News.
"So that shows the vast majority of people going to football matches behave, and enjoy themselves. That's important. We need to shake off this idea that this (football disorder) is an English problem.
"Recent events in Eastern Europe, and Ajax for example, show how bad things can be, and we need to keep it in context.
"And whilst we will never brush the bad behaviour of supporters under the carpet, it's important we get that message across and avoid giving England fans a bad name, because that affects policing."
New law around drug possession leads to rise in number of football arrests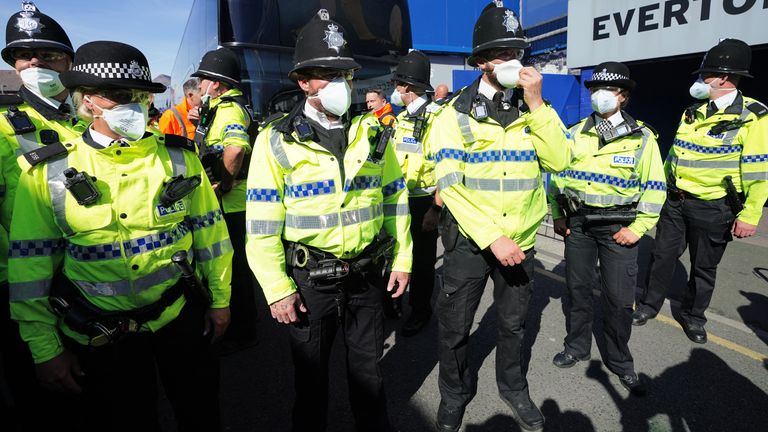 45 million people attended men's domestic and international matches in 2022/223 – a record number.
Arrest rates were five per 100,000 attendees
Incidents were reported at 1,516 football matches – that is 50% of all games (and is a broadly similar figure to the previous season).
Hate crime incidents were reported in relation to (not necessarily at) 370 games (12% of matches).
The use of pyrotechnics (at 620 matches) and throwing of missiles (at 573 matches) is of particular concern to police.
There are currently 1,624 football banning orders in force in England and Wales
Of those, 682 new banning orders were issued last season (highest number since 2010/11)
200 arrests were made for the possession of Class A drugs, in or around football stadiums – this offence has now been raised to a "Schedule 1" offence meaning it will be treated more seriously by the courts.
Recent big tournaments abroad have also seen very positive outcomes.
"At the World Cups recently in Russia and Qatar," Chief Constable Roberts says, "the behaviour of England and Wales fans was probably better than anyone else there."
However, the UK courts last season issued 682 new football banning orders – an increase of 32%, and the highest number since 2010/11.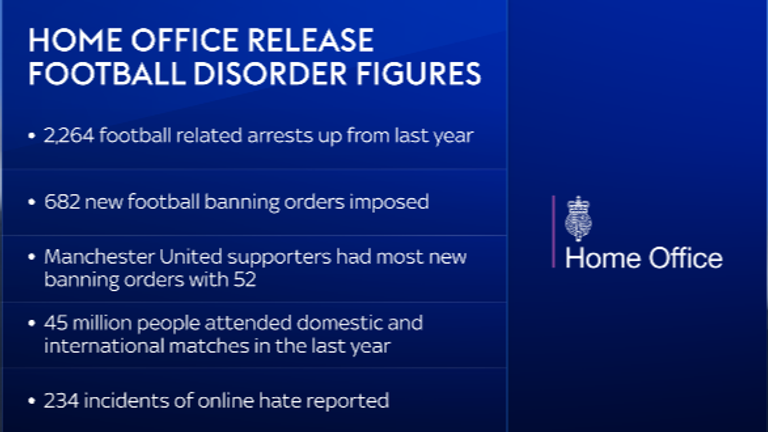 Chief Constable Roberts says those are the police's greatest weapon against football disorder, and so shouldn't necessarily be viewed as a negative.
"We are taking really strict enforcement action. You often see a small number of ringleaders have a disproportionate impact on the rest of the crowd. So if we can take them out of the game, that has a really positive impact…..and makes it a better experience for everyone else."
The statistics show that incidents of hate crime were reported in relation to 370 games last season – that's 12% of matches. The anecdotal increase in homophobic abuse and tragedy chanting is recognised by the police, but not recorded specifically in the Home Office figures.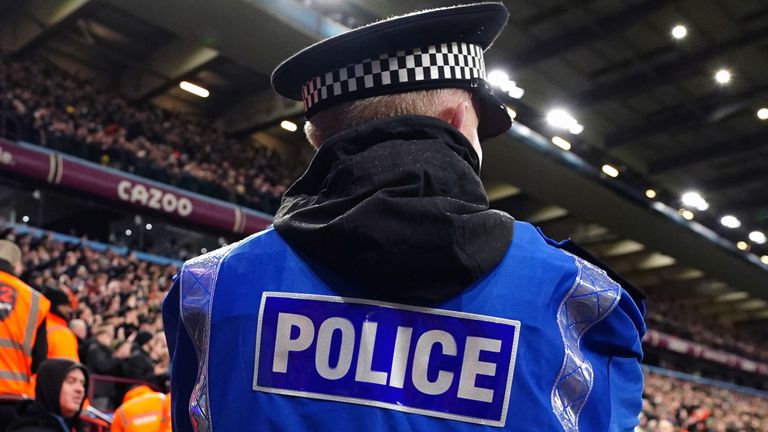 "That sounds a high number, but we think that is a good sign because it is down to better reporting," Chief Constable Roberts insists. "We are seeing some positive results in the courts, and also with banning orders, so that should tell people we will do everything we can to track them down.
"Racist and tragedy chanting diminished for a while, it was pretty rare (in the early and mid-90s) but it's been really disappointing to see that on the rise again. We can speculate on the causes of that – social media maybe, encouraging people to talk in a way which is socially unacceptable.
"But people should be aware we will always pursue that, and take action wherever possible, and when the evidence is there.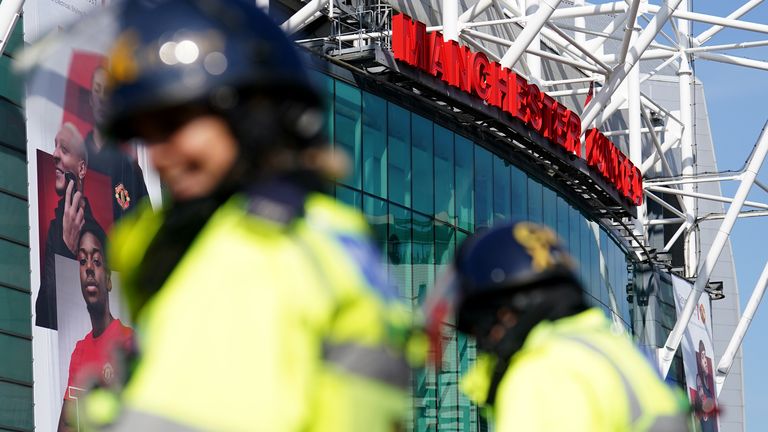 "Chanting on sexual orientation or race is very clearly defined as a hate crime – it can be more difficult with tragedy chanting to show who has taken offence, and build the evidence. But we take it very seriously, and we want to squeeze it out of the game."
For the first time, the Home Office statistics have included the use of Class A drugs at football matches, and arrests made away from stadiums but which are still deemed to be "football related" (for example, arrests in pubs where football is on TV and is deemed to be at the heart of the trouble).
"Cocaine, mixed with alcohol and the excitement of a football match, often drives really poor behaviour," Chief Constable Roberts explains. "So we are really pleased to see the punishments for that increased, working closely with the CPS as we do."
Whilst those two new categories have skewed the overall figures (which might now be interpreted as showing a significant rise in overall arrests), the police still have real concerns – and say they have an extra focus – on the use of pyrotechnics.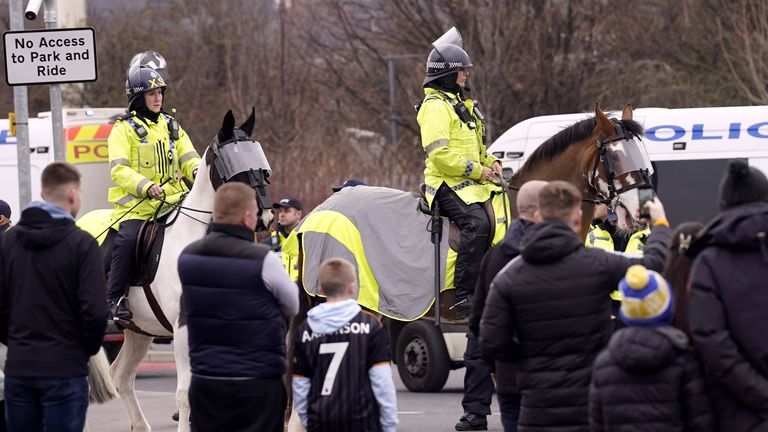 "Clearly, pyrotechnics and missile throwing is very dangerous. We have seen people seriously injured.
"We will often see people glorifying pyrotechnics – please don't. When people pick these up, you don't know whether it's going to just smoke, or explode. And it can, if we are being blunt, blow someone's hand off.
We need that concerted effort around enforcement and education.
What else have the findings revealed?
Of the 682 new banning orders imposed, 99.6% were given to males, with 70% of them aged 18-34 and two per cent aged 17 or under.
Manchester United had the highest number with 69, the first time the Old Trafford club had been in the top five for banning orders since 2016-17. Millwall were second with 66.
A total of 123 arrests were made related to overseas matches involving England and Wales. While 101 were connected with the men's World Cup in Qatar, none were related to the Women's World Cup.
The number of recorded incidents of online hate crime was 234, up from 103 the previous year, although this rise was attributed to better reporting and recording of such incidents.