Rico Lewis, Cole Palmer and Ezri Konsa have been called up to the England senior squad for the first time. 
Chelsea forward Palmer and Man City defender Lewis have been elevated from the U21s squad for the Euro 2024 qualifiers against Malta and North Macedonia.
Meanwhile, Aston Villa defender Konsa, who won the Under-20s World Cup with England in 2017, gets his first senior call-up following a great run of form for Unai Emery's side.
The trio replace James Maddison, Callum Wilson and Lewis Dunk, who pulled out of Gareth Southgate's squad with injuries over the weekend.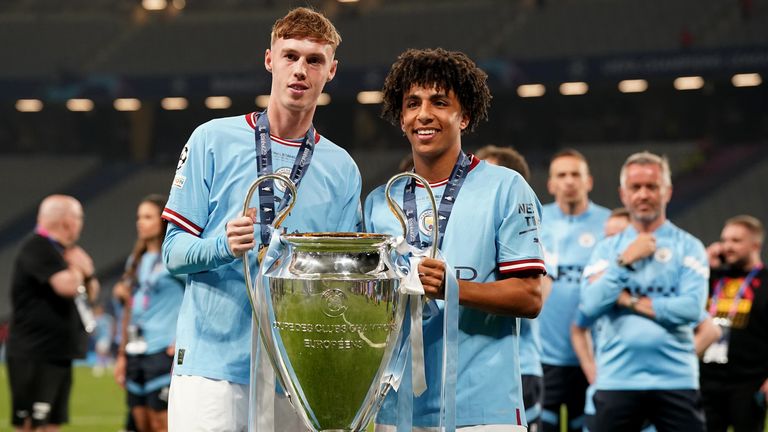 The full England squad are expected to report at St George's Park on Monday afternoon.
Carra: Palmer can make Euros squad
Jamie Carragher says Cole Palmer feels like the main man at Chelsea following his stoppage-time equaliser against his former club Manchester City

After Palmer scored a 95th-minute penalty to secure a 4-4 draw for Chelsea against his former club Man City, Jamie Carragher said he "admires" the 21-year-old for swapping the treble winners for Stamford Bridge – and believes he is becoming the "main man" for Mauricio Pochettino's side.
Palmer joined Chelsea from City for £40m in September and had the final word in the fifth minute of added time, stroking home a spot-kick past Ederson after Ruben Dias had felled substitute Armando Broja.
Rodri thought he had won it for City when his 86th-minute drive took a wicked deflection, but Palmer kept his nerve to give Chelsea a deserved share of the spoils.
Erling Haaland shoves his former team-mate Cole Palmer for earwigging in Man City's huddle before a free-kick

Speaking to Sky Sports after a breathless contest, Carragher said: "What stands out for me is that I admire him for leaving Manchester City. I get frustrated by players who are at big football clubs that don't really play.
"They'll say they've won the Champions League, the league three times, they've done this and they've done that. But we all know they're a squad player.
"They come off the bench every now and again. I admire the fact he's moved to Chelsea because he'll be feeling a lot better in these four to six weeks than he probably ever has done at Manchester City, no matter what medal he's picked up.
"We all know as players, in your heart of hearts, you know when you deserve a medal – when you've been a big part of something.
"When you're on the outside looking in, it doesn't feel great. So he'll feel an awful lot better, even if he's at Chelsea the next two or three years and he picks up just a Carabao Cup or one FA Cup.
"He'll feel his body of work here, if he continues the way he's going, is a lot better than what he's done at Manchester City and the medals he might have won. It's nonsense to me, to be honest.
"Everyone plays a part, but you all know when you've played a major part in a team's success. He's a major part now in this Chelsea team and he almost feels like the main man.
"He's part of the group of players I feel who are making a late surge for the tournament next summer for England. The way he's playing right now, you feel there's a great chance he could end up in that Euros squad."