Arsenal manager Mikel Arteta hopes Thomas Partey will be out for weeks rather than months after the midfielder underwent a procedure to treat a "significant" thigh injury.
Partey has been limited to four Premier League appearances this season and has not featured at all since coming on as a second-half substitute in the 1-0 win over Manchester City a month ago.
The 30-year-old, who also struggled with a groin problem earlier this season, picked up his current injury in training ahead of Arsenal's Champions League away game against Sevilla.
"He is progressing really well but it was a significant injury," said Arteta at his press conference on Friday.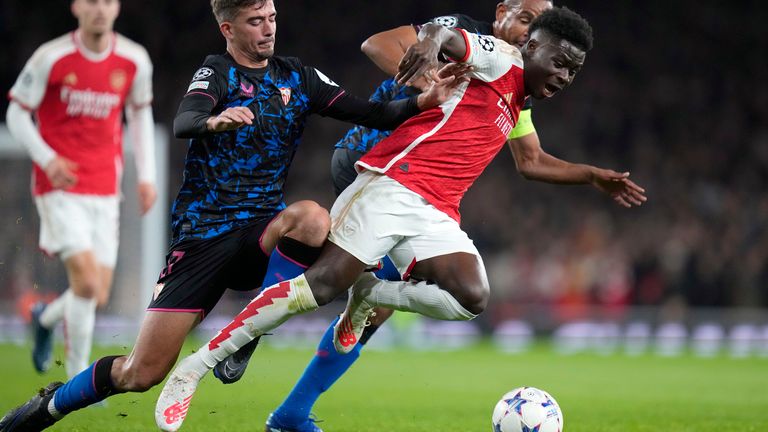 "I said that hopefully it's going to be weeks and not months and he's working towards that. He needs support. Hopefully the injury will heal in the right way and we'll have him back because he is a big player for us."
Arteta also confirmed Emile Smith Rowe will miss the Burnley game as he continues his recovery from a knee problem, while a host of others, including Bukayo Saka, Martin Odegaard, Gabriel Jesus and Eddie Nketiah, are racing to be fit for the game.
Nketiah's prospects looks particularly bright after he was pictured in training on Friday after Arteta had faced the press.
"We have a few still in contention," he said. "We need to give them another 24 hours to give them a chance to be involved in the game, but we won't know anything until tomorrow."
Saka hurt his ankle during Wednesday's Champions League win against Sevilla but Arteta did not rule him out against Burnley despite confirming he was unable to train on Thursday.
"Hopefully not," he said when asked if Saka will have to withdraw from the England squad for the second consecutive international break. "We want our players to play for the club and their national teams.
"B had to leave the pitch (against Sevilla) because he was in quite a lot of pain. He didn't train yesterday. Let's see if he can make it tomorrow."
Sky Sports' Dharmesh Sheth and Nick Wright reflect on Arsenal's commanding 2-0 win over Sevilla, including an exceptional performance from Bukayo Saka.

On captain Martin Odegaard, who has missed Arsenal's last two games with a hip problem, Arteta said: "He's still racing against the clock. He is trying everything that he can. Let's see. It's a possibility."
'Ramsdale still has important role'
Arteta was also asked about goalkeeper Aaron Ramsdale after England boss Gareth Southgate suggested the 25-year-old may need to seek a move away from Arsenal to secure more playing time ahead of next summer's Euros.
The Arsenal boss insisted Ramsdale remains an important member of his squad despite losing his place to David Raya, and urged him not to rush into a decision on his future.
"Well, first of all my door is open to speak to any player, " he said. "We just want the best for our players and we know the influence that we can have, sometimes positively, sometimes not so positively towards them.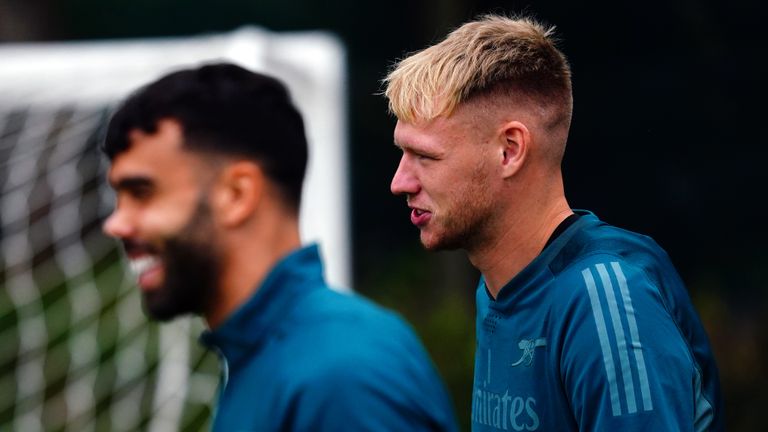 "We will always try to do our best to help them, but this is a team sport that needs 24 players that you have to fulfil a role.
"And the role that you have in August, it might be very different to the one you have in March.
"So, making early decisions, in my experience, is not something good at all. And as well because the team has certain needs that have to be accomplished.
"In order to do that, you cannot do it with six, 10 or 14 players. It is impossible. So you need everyone and Aaron has a really important role in the team."
Asked whether he had a message for clubs who may be interested in signing him in January, Arteta added: "I have no message for any clubs. I can talk about my players, how much I like my players, how much I like Aaron, and that we want Aaron with us, that's for sure."