Mauricio Pochettino said Chelsea will approach the rest of the season confident in the knowledge they can compete with the best teams after dramatically drawing 4-4 with Manchester City at Stamford Bridge.
Cole Palmer struck a penalty in the fifth minute of stoppage time to deny the club with whom he won the Premier League title in May and snatch a sensational point at the death in west London.
City thought they had won it via Rodri's deflected strike four minutes from the end, his effort spinning into the goal past the wrongfooted Robert Sanchez off Thiago Silva's outstretched foot.
Earlier, the lead had been passed back and forth on a topsy-turvy afternoon, Erling Haaland opening the scoring from the spot after 25 minutes before Silva nodded his team level from a corner.
FREE TO WATCH: Highlights of the Premier League clash between Chelsea and Manchester City.

Raheem Sterling scored against his old team to give Chelsea the lead from Josko Gvardiol's mistake, but they could not hold on until half-time as Manuel Akanji was afforded space from a corner routine to equalise on the stroke of the interval.
Haaland struck again to make it 3-2 moments after the restart, Nicolas Jackson thumped home on the rebound when Ederson failed to hold on to Conor Gallagher's drive from outside the box for 3-3, before the late drama for which a stunning match will be best remembered.
And Pochettino predicted the performance and the result would have a transformational effect on his young side as they continue their recovery from an indifferent start to his tenure.
"I'm very proud," he said. "I'm so happy. The players deserve credit, the performance this evening was amazing, against for me the best team in the world.
"Many circumstances that happened during the game that made me proud, the way that we managed the game was really, really good.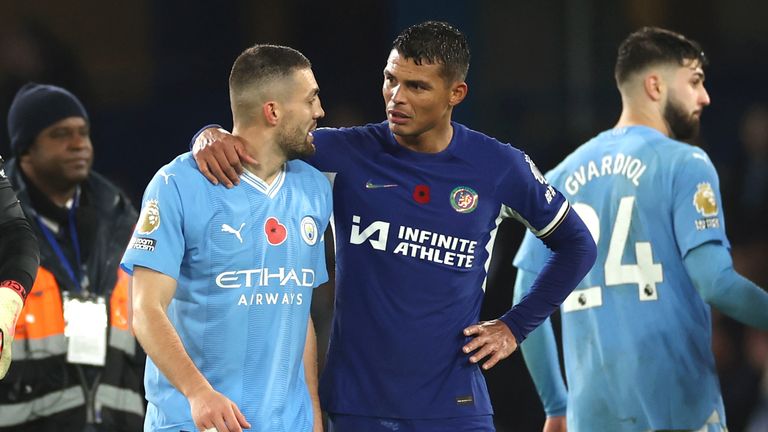 "There are things to improve, but it's the process. When you want to build a project from zero, this type of thing is really good.
"These types of experiences will improve a lot out play and our team. But now we need to translate in the future.
"I am so tired, after Monday [the 4-1 win against Tottenham] and Sunday. I don't want to be wrong when I assess, but if I go back, we were very disappointed [with earlier] results but this is a process. It's a young team, you feel the pressure to win.
"This type of performance will build belief and confidence. [But] we have to have patience in some games."
Having struggled for goals during August and September, Chelsea have now netted eight times in their last two matches following Monday's frenetic win at Spurs.
It is the third time this season they have scored four times in a league game. By contrast, the team did not manage to do so throughout the whole of the last campaign.
"It showed the character, showed the mentality, showed that we can go for the goal against a team like Manchester City and to dominate and have the capacity to create chances," said Pochettino. "I think it's really important today to build our confidence and to believe more in the way we are working.
"We're still far away. But that's the process. It's a different moment, this period. But of course this type of performance we need to use for the future.
"We go step by step, maybe we can jump two steps. But caution. Today was a massive motivation."
Carragher: Best thing about Chelsea now is Pochettino
Jamie Carragher lauds Mauricio Pochettino's results in the big games after Chelsea drew 4-4 with champions Manchester City.

Jamie Carragher was impressed by the manner in which Chelsea went toe-to-toe with the Premier League champions. Even before the dramatic denouncement, the Sky Sports pundit declared on commentary: "Chelsea have had a problem when teams have sat back but against teams who have gone for it, they've done really well.
"With the manager they've got, when you think about going up against the other top managers in this league, Pochettino tactically has done really well.
"Not many teams cause City these many problems. They did well against Arsenal, Liverpool, and things will only improve when Pochettino puts his stamp on this team."
Speaking afterwards, Carragher added: "What Pochettino has done in big games is fantastic. You can see him as a manager going up against [Jurgen] Klopp, Guardiola, [Mikel] Arteta and he hasn't quite got the tools they've got. I know people will say they've spent a lot of money, it's still short of what the top teams have got.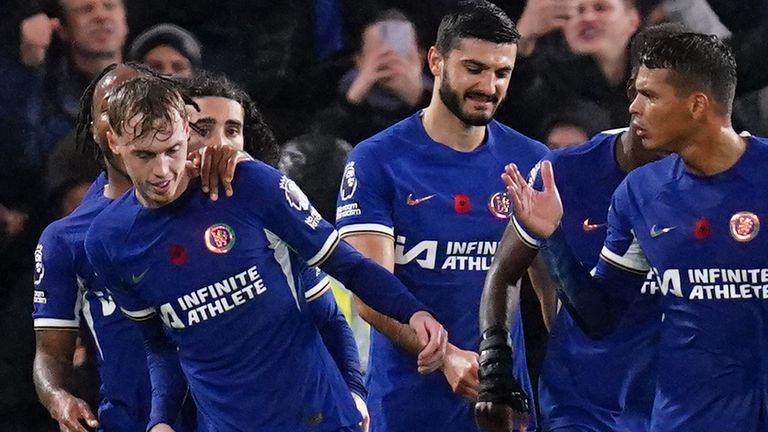 "But what they've done in big games is a feather in the cap of the manager. The best thing about Chelsea right now is Pochettino. It's not the players or the owners. It is the manager they've got. He's the most important thing at Chelsea.
"When you talk about Chelsea getting back to winning trophies, the best option they have got in terms of manager, I don't think they could have got any better.
"Pep Guardiola and Jurgen Klopp are at clubs. So, Pochettino is the best manager available for them right now. He is the most important thing at Chelsea and the best thing at the club. Everything around Pochettino has to improve.
"Chelsea are making progress because of the manager. In terms of the big games, the manager cannot get any more out of that group of players.
Jamie Carragher says Cole Palmer feels like the main man at Chelsea following his stoppage-time equaliser against his former club Manchester City.

"The players will take from this game more than anyone, the confidence that they can go up against the best team in the world. They'll get confidence in the manager as well that he can set them up in a certain way.
"It's not just this game either. In every big game, he's given the opposition problems. They were the better team against Liverpool, they were the better team against Arsenal and I think they were the better team against Manchester City, in terms of causing the opposition problems.
"There's a lot to feel good about in terms of what is going on at Chelsea. We can go back to the ownership and how much they've spent but in terms of Pochettino and a young team, there's a lot of optimism going forward and competing with the best teams, and that they've got a manager who can compete with the best managers."
Jamie Carragher on Chelsea's Champions League hopes
"I think they can [force themselves into the Champions League conversation this season].
"You've got to remember how early it is. Three or four weeks ago Manchester United were being written off for the top four. They are now just five points off.
"You'd expect Chelsea to get better with Pochettino in charge. I don't think they get top four, but should they still fight for it even thought they are 10 points behind fourth? I think so.
"You aren't competing against the best teams in the league to get into the top four so they will drop points as well. It's not like going up against teams going for the title who win most weeks. Clubs chasing fourth will drop points.
"There is still a lot for them to do. One win in 14 at Stamford Bridge is nowhere near good enough but Pochettino as a manager, he's the biggest thing that would make me believe there could be some sort of challenge to qualify for the Champions League."
Pep: No regrets after fair result | 'It's Chelsea, they don't go away'
Pep Guardiola says he has no regrets after his side's thrilling 4-4 draw with Chelsea, which he described as a 'fair result'.

City boss Pep Guardiola reflected on a fair result as his team moved a point clear of Arsenal at the top of the Premier League table.
"It was a good advert and entertaining game for the Premier League and both teams wanted to win," he said. "I wouldn't have expected differently. Chelsea have a fantastic team and players.
"Here Liverpool couldn't win, they were much, much better than Arsenal… it's Chelsea! They don't go away.
"They have physicality, they have talent, they have speed, they have bench, they have a lot of things. Chelsea is built, what they have done is decide for the next years to be there.
"We had momentum, two or three transitions one-on-one which we could not finish. But the game was in the moment at the end.
"A tight game, but a fair result. I congratulate the team, we go into the break and we qualify for the Champions League and we come back [after international break] and go."