Aaron Ramsdale's father has criticised the manner in which Arsenal manager Mikel Arteta dropped his son for David Raya.
Ramsdale – who has been Arsenal's No 1 for the last two seasons – has not started a Premier League game for Arsenal since September 3, with on-loan goalkeeper Raya now Arteta's first-choice shot stopper.
Since Raya moved from Brentford this summer, Arteta has insisted that Arsenal have two No 1 goalkeepers, but Ramsdale's father Nick has said that the Arsenal manager has relegated his son to second-choice goalkeeper without telling him it is the case.
In an interview with the Highbury Squad podcast, which included input from former Arsenal striker Kevin Campbell, Ramsdale Senior said: "We did not have a clue [Ramsdale was going to be dropped]. I didn't have a clue, our family didn't have a clue, Aaron didn't have a clue that he was not going to carry on playing. All of a sudden, he's not been played.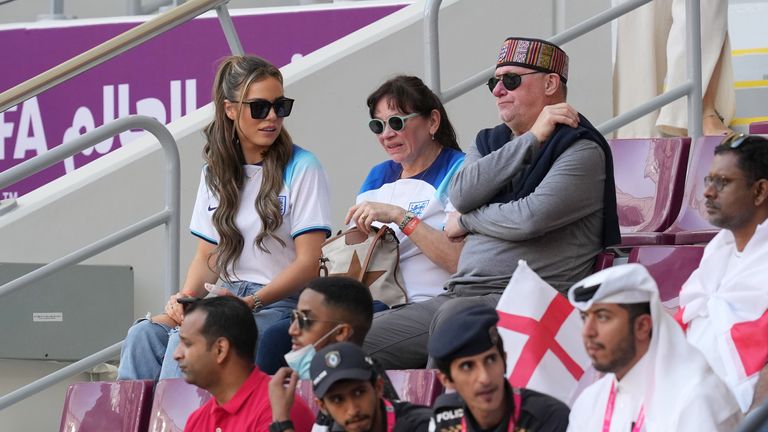 "You just have to look at it personally and I'm probably saying too much but: Aaron is going to be the cup goalkeeper, and David Raya is going to be the main man unless something happens, an injury or a sending-off. And Aaron's got to live with that and he is living with that even though he's not been told it. By anybody.
"Squads evolve all the time, nobody is going to be there forever. David Raya has not pulled up trees so far, let's say he's not going to. Even though the way it's been done, in my eyes, it's been wrong."
Sky Sports News have approached Arsenal for comment.
'My son has lost his smile'
Ramsdale's father has said the goalkeeper has found it difficult to keep positive after his position as Arsenal No 1 was taken away from him.
"Aaron lost that smile. And it's difficult to see him there," he said. "We all keep saying: 'you need to keep smiling'. And at the moment in time, we haven't got that smile in him.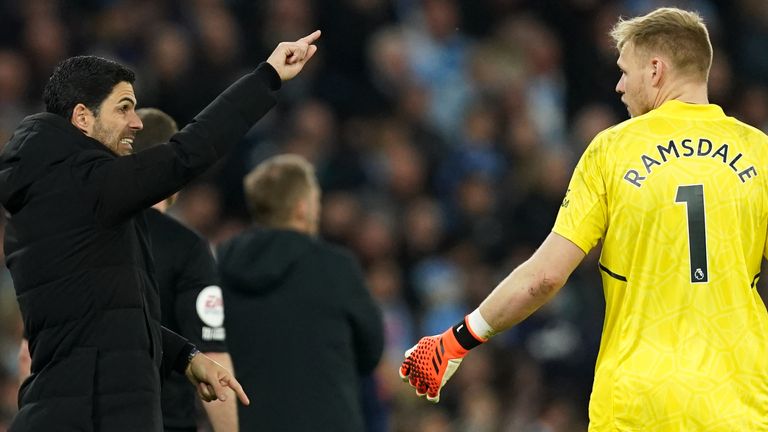 "David Raya is a great goalkeeper and it's not his fault. He's just come in as a goalkeeper. It's just like when Aaron came in and Bernd Leno was there.
"Aaron says Raya is a lovely guy and he works hard with him. Aaron is trying to help in as much as he can to settle in with the squad. It's possibly the way it's been done, not knowing the reason why.
'Why extend his contract and then sign Raya?'
Ramsdale's father also responded to recent claims by Raya's agent that the former Brentford goalkeeper was actually Arteta's first-choice goalkeeper when Arsenal signed his son back in the summer of 2021.
He also criticised the club for tying his son down to a new long-term contract over the summer, then signing Raya a few months later.
"My only problem is when I spoke to Mr Arteta on the phone before he signed Aaron, he said he wanted Aaron. But now David Raya is back on the market and he had David Raya," he added.
Asked what Raya's arrival means for his son's future at Arsenal, Ramsdale's father added: "I don't know. Aaron has just signed a new deal with three or four years with an option for 12 months.
"This is honestly truthful, I'm not spinning the yarn. This is purely me: why would you extend a goalkeeper or any player's contract and then two or three months later [make a move on someone else]?"
Is this why Arteta chose Raya over Ramsdale?
David Raya's performances come under scrutiny as Mikel Arteta's decision to bring him in ahead of Aaron Ramsdale remains a hot topic.
Writing after Arsenal's win over Manchester City in October, Sky Sports features writer Adam Bate examined the reasons for the change and the stats that support it…