Jill Scott says it's an "absolute honour" to be named in the Women's Super League Hall of Fame after a career spanning two decades.
The England legend, who was part of the Euro 2022-winning squad, has been inducted alongside her ex-international team-mates Ellen White and Anita Asante in the 2023 class.
Scott made 175 WSL appearances, scoring 22 goals and won four Women's FA Cups, three League Cups and one league title.
"It's an absolute honour. Playing in the WSL since it formed until a couple of years ago, they're simply the best memories ever. To be inducted to the Hall of Fame won't sink in for a while," Scott told Sky Sports.
"It means so much, especially with names already in there like Kelly Smith and Karen Carney. When you retire you lose a lot of identity as your whole purpose was to be a footballer. So to be remembered in this way is such an honour, this one will go on the mantlepiece."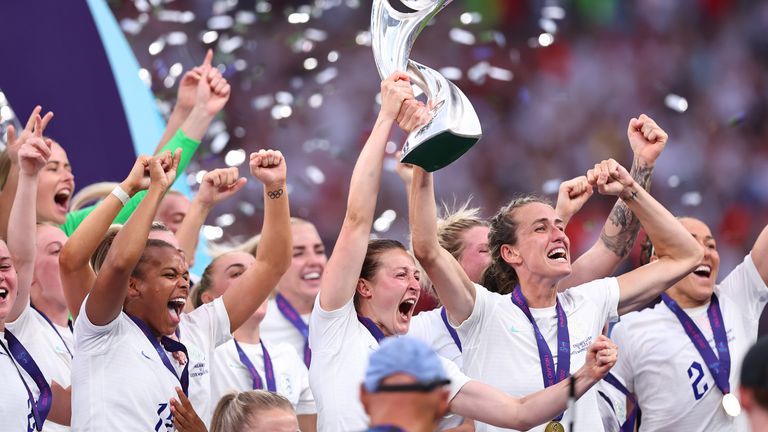 Scott enjoyed an 18-year club career, starting out at Sunderland before moving to Everton and then Manchester City.
The all-action midfielder was one of City's first signings after the club went professional in 2013, a period Scott looks back on with immense fondness.
"That was my favourite year in football, my first year at City. I remember being told to stop saying in interviews, 'They wash our kit and give us breakfast' as they kept telling us that's how it should be," said Scott.
Ellen White made a total of 144 league appearances for Arsenal, Notts County, Birmingham City and Manchester City.
She scored on 61 occasions – a statistic that made her the league's all-time goalscorer at that time – and lifted nine trophies during her career.
"When I look back at my career, even though I was in the middle of it, everything was new and exciting. I was just in awe of everything the club was doing."
It was with Man City where Scott won her biggest domestic trophy, the league title in 2016.
"I had 20 years of playing in the top leagues of women's football but I only won the title once. That day means the absolute world to me because we'd had so many disappointments along the way," she said.
"I was lucky to be surrounded by fantastic players that made me look better than I actually was, so this is also for the clubs I played for."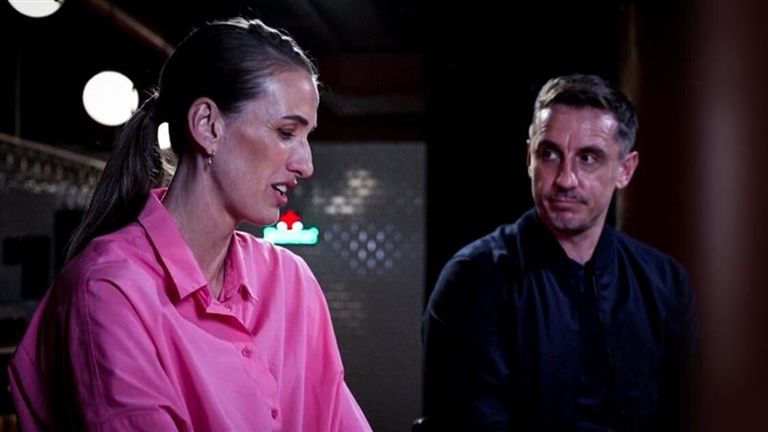 Scott has gone on to national fame since retiring, winning I'm a Celebrity Get Me Out of Here and becoming a panellist on A League of Their Own.
The much-loved midfielder also remains active in the women's game and is loving the direction it's going in.
Anita Asante helped set the foundations of the women's game in England prior to the creation of the Women's Super League, with a trophy-laden spell at Arsenal throughout the noughties.
She made 47 appearances in the division's current guise for Chelsea and Aston Villa.
"I remember Alessia Russo being the main transfer everyone was talking about," said Scott. "It was great to see, she was the first one they were talking about like men's football. People were coming up to me in the street asking, 'Do you know where Alessia's going?'.
"I can't give the girls enough credit, they're such great role models. They're the most humble people you can meet. If you have a young girl or boy looking up to them you'll be in good stead for life."
Not only is Scott proud of the recognition and career path now open to players, but it also makes her happy to see major stadiums selling out for WSL games.
"I know they aren't my teams but when you see Arsenal and Chelsea getting 50,0000 or 60,000, it shows what it means to them," she said.
"Going back to the beginning we'd get 200 people coming to watch. I'm excited for it, there are more games in the main stadiums now.
"It makes us smile, the growth of it. It's always going to get better, we always look for what's next. We do that with the Super League because we know the potential."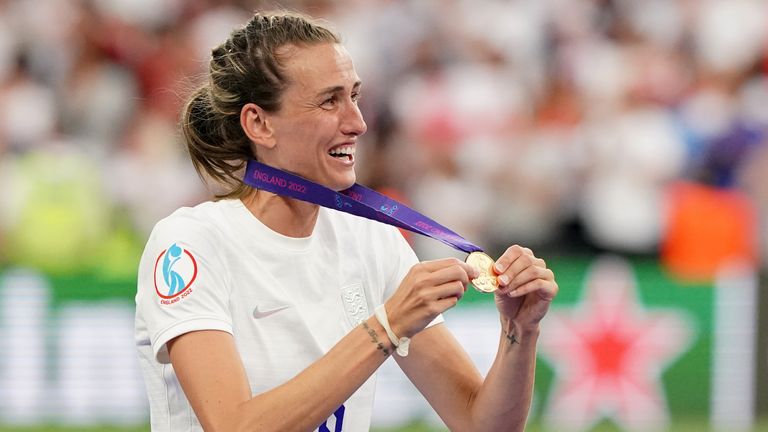 Scott was known as a selfless player, willing to do the dirty work in order to let the team shine.
She's the same with her Hall of Fame award, even if she does wince at some of the tales her former team-mates and rivals will tell about her.
"I don't know if some of the stories will be able to be told!" she added. "I've had so much support from team-mates.
"My role in the team was to work hard, which could be unseen, but the girls have always backed me."
The three inductees were unveiled at a special event at the National Football Museum in Manchester on Monday.
They join an illustrious group of individuals who have been recognised for their huge contributions and achievements at the highest level of the women's game, including Emma Hayes, Karen Carney MBE and Kelly Smith.