Gareth Southgate says Jordan Henderson would be "sad" if England's LGBTQ+ fans turned their back on the team, should the Saudi Arabia-based player take to the field against Ukraine on Saturday.
Henderson, a vocal supporter of LGBTQ+ rights during his time as Liverpool captain, has taken widespread criticism for moving to Saudi club Al Ettifaq during the summer transfer window. Homosexuality is illegal in Saudi Arabia and can result in capital punishment.
After England manager Southgate selected Henderson for his September internationals, England's LGBTQ+ supporters group Three Lions Pride announced they would turn their back to the pitch if Henderson played for his country again – as that is what they feel he has done to them.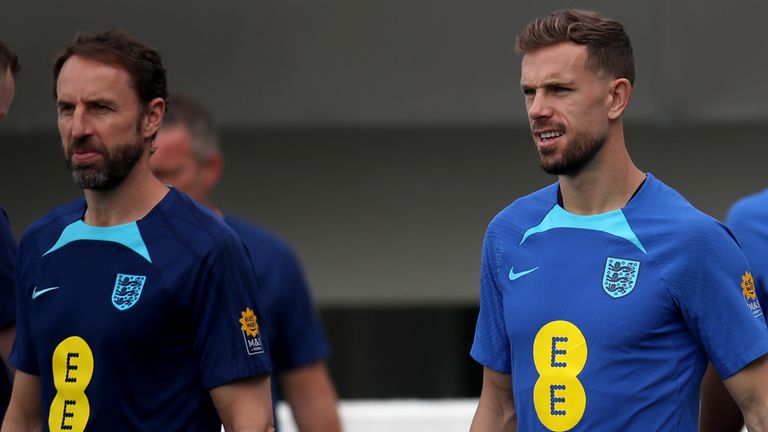 Asked about the protest move, Southgate said: "I think Jordan expressed himself this week that he would be sad if that's how they felt. His feeling towards that community hasn't changed.
"As a team, I'm sure all of our fans are going to get behind the team when the game starts.
"I understand some of the comments that have been made and I respect the comments that have been made, but what has also said is they will get behind the team when we play, and I'm sure they will get behind Jordan when the game starts as well."
Trent Alexander-Arnold's injury means Henderson is a contender to start alongside Declan Rice and Jude Bellingham in the England midfield on Saturday, though Conor Gallagher, Kalvin Phillips, James Maddison, Phil Foden and Eberechi Eze are also options.
Saudi Pro League director of football Michael Emenalo says he is proud of Jordan Henderson and claims he should not be vilified for joining Al Ettifaq.

Asked if Southgate considered taking Henderson out of the firing line, the England manager said:" I don't pick the team based on external reaction, as I'm sure you're aware over the course of the last seven years.
"He's a very experienced professional. He's very mature at handling any situation really. He's trained well this week, the whole group has, and everyone is available for us which is really pleasing."
What Henderson said this week
Sky Sports News chief reporter Kaveh Solhekol explains the comments and decisions made by Jordan Henderson following his recent in-depth interview with The Athletic about his move to Saudi Arabia.

When his move to Saudi Arabia was completed, quotes from Henderson in 2021 – where he said the idea of playing in a place that makes others excluded based on their identity "blows my mind" resurfaced.
In his interview with The Athletic earlier this week, the England midfielder defended his decision to move to Saudi Arabia, admitting he "strongly believed" it was the right thing to do.
"All I've ever tried to do is help," Henderson said in the interview. "And when I've been asked for help, I've gone above and beyond to help. I've worn the laces. I've worn the armband. I've spoken to people in that community to try to use my profile to help them. That's all I've ever tried to do.
"I'm not going to sit here saying, 'Why are they criticising me?' I understand it. These are all the things I was thinking about, and I do care.
"When I hear stuff like, 'You've turned your back on us,' that hurts me. I do care. I have family and friends in the LGBTQ+ community … I'm comfortable knowing exactly what I am and exactly what I stand for. But I get and I can accept not everyone's going to get that. So that's why I can only apologize to those people if they feel like that."
Southgate: Atmosphere will be passionate in Poland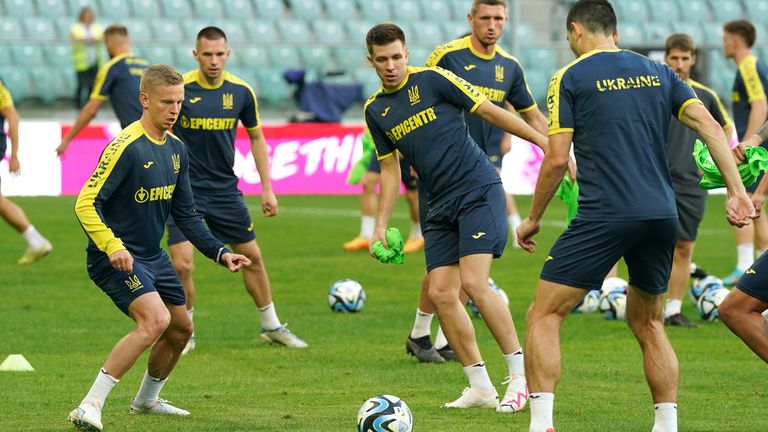 Southgate says he expects a "passionate and partisan" atmosphere as his England side prepare to face Ukraine in Wroclaw, Poland.
Wroclaw has a strong Ukrainian population after many citizens fled their country to the Polish city following the invasion of Russia at the start of 2022. In general, the number of Ukrainians living in Poland has trebled over the past 18 months, meaning this is closest possible manner in which Ukraine's national team can experience a home game.
"We know hundreds and thousands of Ukrainians are living here," Southgate said. "We are expecting a passionate and partisan support.
"We are used to playing that environment and are respectful of the occasion. Our job is to come and win a football game.
"I can't talk on a broader perspective. Football-wise, it's just a difficult game for us. It's a team we respect a lot.
"Some players have played in England and some of the players we know very well. We know we have to be at our best to get the win that we want."
Follow the Euro 2024 qualifier between Ukraine and England live on Sky Sports' digital platforms on Saturday from 3.30pm, kick-off 5pm