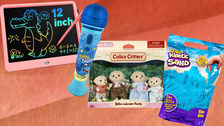 For all the joys of being a grandparent, it can be challenging to know what to gift little ones when the holiday season comes around. With the internet moving a mile a minute and babies practically born with smart phones or tablets in their hands, who knows what kids want these days and which presents will actually be loved by them (and their parents)?
To help you nail this holiday season without spending hundreds of dollars, we asked our favorite parents and aunties of little ones to share the things their children are asking for this winter. Every item listed is currently owned and loved or on the wish lists of kiddos 10 and under. From science-themed craft kits to snuggly blankets, the options range from the practical to pure fun.
All are under $25 and sure to bring a smile this holiday season.
HuffPost and its publishing partners may receive a commission from some purchases made via links on this page. Every item is independently curated by the HuffPost Shopping team. Prices and availability are subject to change.